Although winter has not officially begun, it sure has been feeling like WINTER the past few days and especially today with the low temperature being 28°F! I am talking about Raleigh, NC but it isn't much different from most other regions in the nation.
So, when I think of 'what's for dinner tonight?' a bowl of hot soup with some 100% whole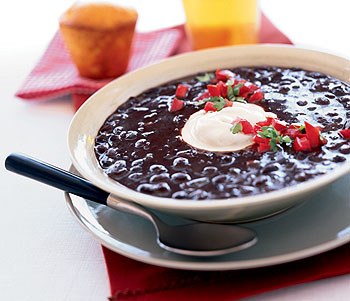 wheat bread and steamed broccoli seems to be the best option. Black bean soup is my favorite and I would like to share a CROCK-POT® recipe that I recently came across. It has become one of my favorites because it's easy and quick – it can be put together in minutes before you leave for work in the morning and have it ready when you get back home in the evening!
2 cans (about 15 ounces each) black beans, undrained (I use the low-sodium version)
1 can (about 14 ounces) vegetable broth
1 ½ cups chopped onions (optional)
1 ½ teaspoon chilli powder
¾ teaspoon ground cumin
¼ teaspoon garlic powder
¼ teaspoon red pepper flakes
1 medium lime, cut into wedges
½ cup sour cream (I substitute with plain, nonfat yogurt)
2 tablespoons olive oil (I don't use this and it is still good)
2 tablespoons chopped fresh cilantro
Makes 4 servings
Coat inside of a CROCK-POT®/slow cooker with nonstick cooking spray. Add beans, broth, onions, chilli powder, cumin, garlic powder and red pepper flakes. Cover and cook on low for 7 hours or on high for 3 ½ hours (or until onions are very soft).
Process 1 cup soup mixture in blender until smooth and return to CROCK-POT®/slow cooker (I use a hand blender and process the soup directly in the crockpot for just a few seconds). Repeat with additional soup until desired consistency is reached. Let stand for 15 – 20 minutes before serving.
Serve soup into bowls; squeeze lime wedge over each serving. Top with sour cream (I use plain yogurt), oil (I skip this) and cilantro.
Source: CROCK-POT®. The Original Slow Cooker. Vegetarian Recipes. Meatless favorites made in your CROCK-POT® slow cooker. Publications International, Ltd. 2013.