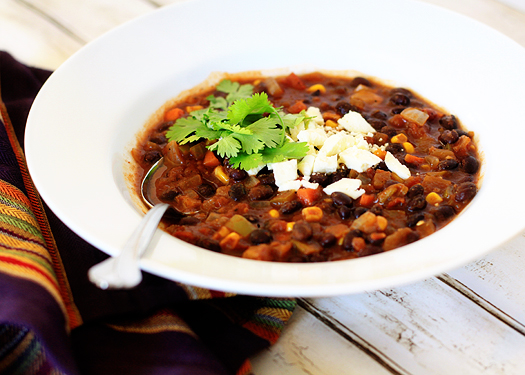 Ingredients
1 tablespoon plus 2 teaspoons extra-virgin olive oil
1 medium-large sweet potato, peeled and diced
1 large onion, diced
4 cloves garlic, minced
2 tablespoons chili powder
4 teaspoons ground cumin
1/2 teaspoon ground chipotle chile (Optional, see Note)
1/4 teaspoon salt
2 1/2 cups water
2 15-ounce cans black beans, rinsed
1 14-ounce can diced tomatoes
4 teaspoons lime juice
1/2 cup chopped fresh cilantro
Preparation
Heat oil in a pot over medium-high heat. Add sweet potato and onion and cook, stirring often, until the onion is beginning to soften, about 4 minutes. Add garlic, chili powder, cumin, chipotle and salt and cook, stirring constantly, for 30 seconds. Add water and bring to a simmer. Cover, reduce heat to maintain a gentle simmer and cook until the sweet potato is tender, 10 to 12 minutes.
Add beans, tomatoes and lime juice; increase heat to high and return to a simmer, stirring often. Reduce heat and simmer until slightly reduced, about 5 minutes. Remove from heat and stir in cilantro.
Makes: 4 servings, about 2 cups each
Active Time: 25 minutes Total Time: 40 minutes
Tips & Notes
Make Ahead Tip: Cover and refrigerate for up to 3 days or freeze for up to 3 months.
Note: Chipotle peppers are dried, smoked jalapeño peppers. Ground chipotle chile pepper can be found in the spice section of most supermarkets or online.
Nutrition
Per serving: 307 calories; 8 g fat (1 g sat); 0 mg cholesterol; 51 g carbohydrates; 0 g added sugars; 12 g protein; 14 g fiber; 494 mg sodium; 947 mg potassium.