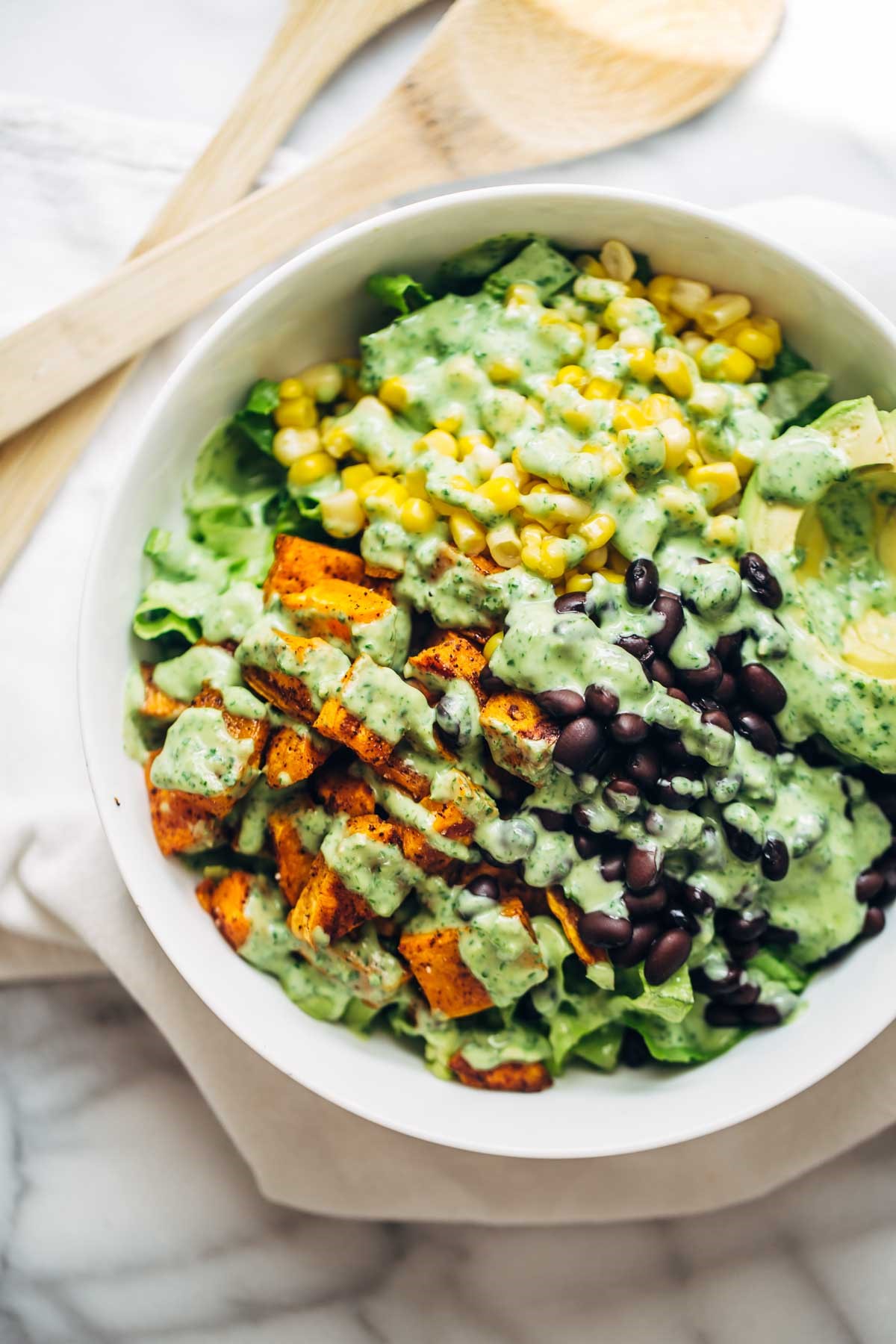 Source: Pinch of Yum
Serves 4 big salads
Ingredients
For the Salad:
2 sweet potatoes
1 tablespoon oil
1 heaping teaspoon cumin
1 heaping teaspoon chili powder
A sprinkle of cayenne if you like it hot
Salt and pepper to taste
1 14 ounce can black beans, rinsed and drained
1 14 ounce can sweet corn, rinsed and drained
1 romaine heart chopped
For the Cilantro Dressing:
½ an avocado
¼ cup Greek yogurt
½ cup water
1 cup cilantro leaves and stems
1 small clove garlic
½ teaspoon salt
A squeeze of lime juice
Instructions

Preheat oven to 400 F.
Peel the sweet potatoes and chop into bite-size pieces.
Mix the olive oil, cumin, and chili powder together in a small bowl. Brush mixture on sweet potatoes.
Roast potatoes for 10 minutes. Stir or shake the pan.
Turn heat up to 425 F and roast for another 10-15 minutes.
Check, stir, and bake until the sweet potatoes are just barely roasty-brown on the outside. Season with salt and pepper.
Meanwhile, pulse all the dressing ingredients in a food processor until mostly smooth.
Toss the beans, corn, lettuce, and sweet potatoes with the dressing. Serve with chips and/or the other half of the avocado for extra yum!
Notes
Frozen corn can be used if preferred.
Nutrition Information
Calories: 271; Total Fat: 8.2; Sodium: 874.5mg; Cholesterol: 2.3mg;
Total Carbohydrate: 41.6; Sugar: 6.3g; Protein: 11g.