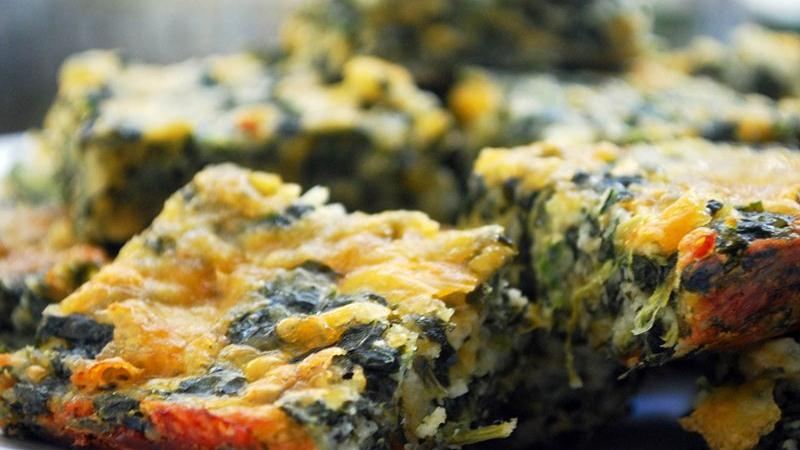 Ingredients
1 Tablespoon of dry bread crumbs
¾ cup of shredded reduced fat cheddar cheese, divided
1 (10 ounce) package of frozen chopped spinach, thawed and squeezed dry
¼ cup finely chopped sweet red pepper
1 ½ cups of egg substitute
¾ cup of fat-free milk
2 Tablespoons of grated parmesan cheese
½ teaspoon of dried minced onion
¼ teaspoon of garlic powder
¼ teaspoon of black pepper
Instructions
Sprinkle bread crumbs evenly into an 8 inch square baking dish coated with nonstick cooking spray. Top with ½ cup cheese, spinach, and red pepper. In a small bowl, combine the remaining ingredients and pour over the top.
Bake, uncovered, at 350 for 35 minutes. Sprinkle with remaining cheeses. Bake 2-3 minutes longer or until a knife inserted near the center comes out clean. Let stand for 15 minutes before serving.
Nutrition Information
Makes 4 servings.
Calories: 170, Total fat: 6g, Saturated fat: 2g, Cholesterol: 8mg, Sodium: 434mg, Carbohydrate: 8g, Fiber: 2g, Protein: 21g.