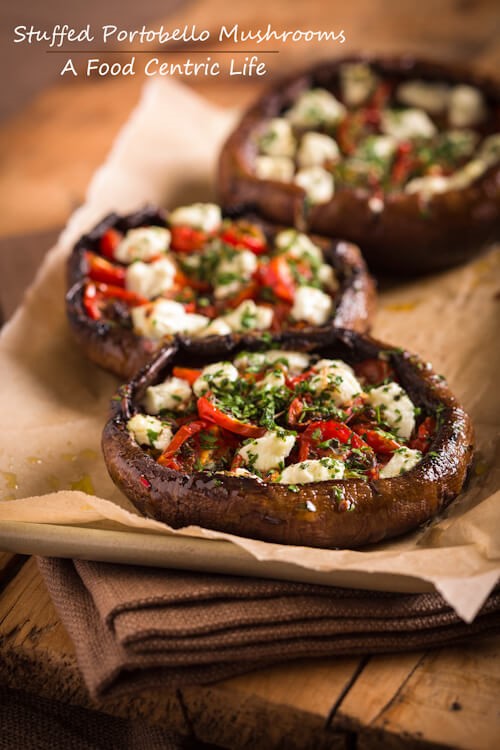 Source: Afoodcentriclife.com
Serves 4
Ingredients
4 large Portobello mushrooms about 4″ across
3 tablespoons olive oil
1 tablespoon lemon juice
2 teaspoon finely chopped shallot optional
1 large garlic clove finely chopped
1/4 teaspoon sea salt to taste
1/4 teaspoon ground black pepper
4 ounces plain goat cheese
1 tablespoon fresh chopped parsley
1 tablespoon fresh chopped chives
Instructions
If you have not made the oven roasted tomatoes ahead, do them first. They take just a few minutes of prep time and 20-25 minutes in the oven.
While the tomatoes are roasting, clean the mushrooms by gently wiping the outside of the caps with a damp paper towel or brushing any dirt off with a soft brush. Next, pop out the stems by pushing them from side to side until they snap out. Then with a teaspoon, scrape the gills out until the underside is mostly clean. Place them on a foil lined rimmed baking sheet.
Whisk together the olive oil, lemon juice, shallot and garlic.  Brush mushroom caps inside and out with the olive oil mixture (or plain olive oil). Sprinkle each cap with salt and pepper.
Pre-heat the broiler. With the oven rack on the second to the top level, broil the mushrooms for 3-5 minutes until they are hot and the edges are starting to brown. They will start to release moisture and get juicy. Remove from the oven.
Pre-heat the oven to 375 (190C). Fill the caps with the roasted tomatoes and dot with the goat cheese. Sprinkle with the fresh herbs.
Bake for 12 minutes or until hot and the cheese has softened. Brush with a little extra olive oil on the edges to make them shine. Serve
Notes
These giant, meaty mushrooms make a terrific appetizer or meatless main dish. The oven roasted tomatoes, goat cheese and herbs add to their earthy, savory flavor. . Make the roasted tomatoes ahead or while you are prepping the mushrooms. They take 20-25 minutes, plus another 12 minutes to bake the filled mushrooms.
When you buy Portobello mushrooms, look for firm, moist caps that are not broken.  They will hold for approximately 4-5 days after purchase when properly stored.
The recipe link for the oven roasted tomatoes is here. They take 20-25 minutes and will last a few days in the fridge so you can make them ahead of time.
Nutrition
Per serving:
Calories: 266.5
Total fat: 22.25 g (Saturated fat: 7.5 g)
Protein: 9.75 g
Carbohydrates: 9.25 g
Cholesterol: 21.75 mg
Sodium: 283 mg
Total Sugar: 5.5g (Added sugar: 0 g)