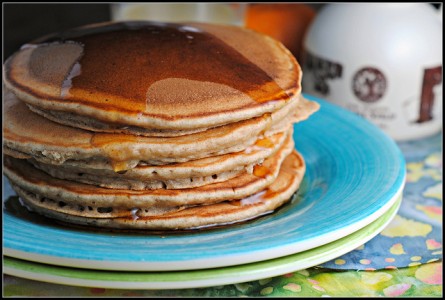 From PreventionRD.com, December 2012
Ingredients:
2 cups whole wheat flour or white whole wheat flour
1 1/2 tsp baking powder
1/2 teaspoon salt
1 1/2 tsp cinnamon
2 tsp sugar
1 tsp nutmeg
2 large eggs
1 cup low-fat eggnog
1 cup fat-free milk
2 tsp vanilla extract
Instructions:
In a large bowl, combine the flour, baking powder, salt, cinnamon, sugar, and nutmeg. Whisk together and set aside.
In a medium blow, whisk together the eggs, eggnog, milk, and vanilla. Add the wet ingredients to the dry ingredients and mix well with a spoon just until combined.
Heat a large non-stick skillet on medium heat or preheat a griddle. Pour about 1/4 cup of pancake batter onto the hot surface. When the bubbles settle and the edges begin to set, flip the pancakes. Repeat with the remainder of the batter. Serve immediately.
Nutrition:
Makes 6 servings; 2 pancakes per serving
Calories: 232; Fat; 3.2 Cholesterol: 72 mg; Sodium: 383 mg; Carbohydrates: 39.3 g; Fiber: 4.3 g; Protein: 5.3 g.