Susanne shares her delicious pumpkin roll recipe- a great way to satisfy a sweet tooth AND get more whole grains in your diet!
Whoever says whole-grain products can't be tasty must have never tried these whole-wheat pumpkin rolls with honey and pumpkin seeds.  They are delicious!
If you're not a huge fan of whole grains, this may be your "gateway roll!"  While they probably cannot be technically considered a whole-grain product, since whole wheat is not the number one ingredient, they are a great recipe to initiate/continue your love affair with the healthier, more fibrous alternative to white flour.
I have made them twice now and they were a hit both times with family and friends.  One time was even without the cinnamon butter I whipped up to go along with them…
You can follow the recipe exactly or get a little crazy and modify it by shifting the whole wheat flour and white flour ratio to increase the fiber content… experiment and see where this gateway roll takes you!
Below is the recipe for Whole-Wheat Pumpkin Rolls with Honey and Pumpkin Seeds from RD.com:
Ingredients:
1 envelope active dry yeast
1/2 cup warm water (105°F to 115°F)
1/4 cup honey
1 can (15 ounces) solid-pack unsweetened pumpkin
2 tablespoons olive oil
4 1/4 to 4 1/2 cups all-purpose flour
1 cup whole-wheat flour
2 teaspoons salt
1 1/2 cups unsalted, shelled pumpkin seeds, lightly toasted
Since this was my first time using yeast, I'll give you a preview of the "rising."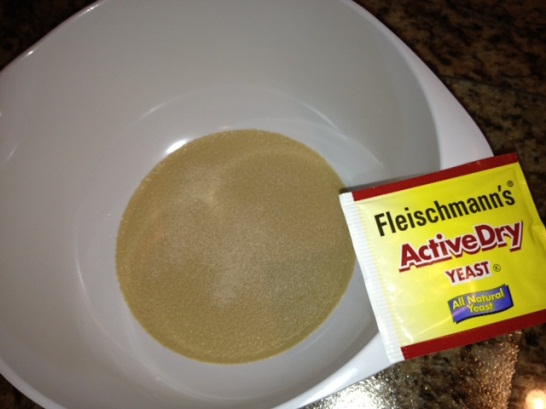 In a large bowl, sprinkle yeast over warm water. Let stand until foamy, about 5 minutes. Stir in honey until dissolved. Stir in pumpkin and oil. Stir in 4 cups of the all-purpose flour, whole-wheat flour, and salt until dough forms.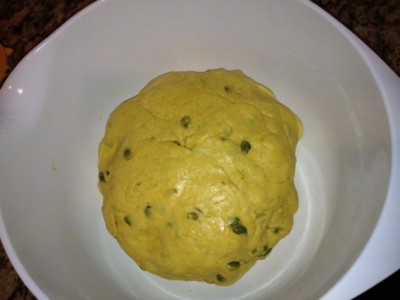 (Before rising)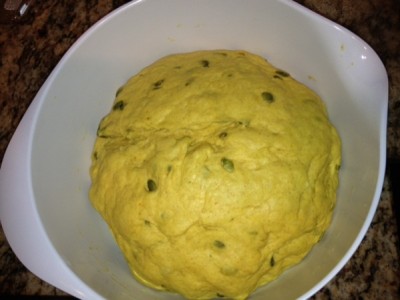 (After Rising)
Turn dough out onto floured surface. Knead until smooth and elastic, about 10 minutes, adding more flour as needed to prevent sticking. Work in pumpkin seeds. Place dough in lightly oiled bowl. Turn to coat. Cover loosely with plastic wrap. Let rise in warm place until doubled in volume, about 1 1/2 hours.
Line 2 baking sheets with foil. Punch dough down. Form dough into 24 equal-size rolls. Place on prepared baking sheets. Cover loosely with plastic wrap. Let rise in warm place until doubled in volume, about 1 hour.
And finally,
Preheat oven to 400°F. Uncover rolls. Bake until puffed and golden and rolls sound hollow when tapped on bottom, about 12 minutes. Serve warm or at room temperature.
Enjoy!