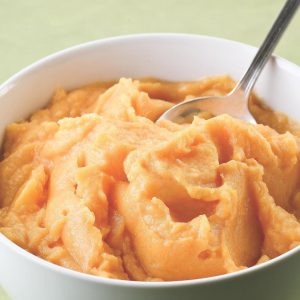 Retrieved from: Eating Well
Sweet potatoes bring more than just high levels of Vitamin A to this dish; they add a complex flavor similar to pumpkin, and a sweetness that traditional white potatoes alone do not provide. Cut the boiling time in half by microwaving the potatoes for a few minutes first.
Ingredients:
1 pound Yukon Gold potatoes, peeled and cut into 1 1/2-inch chunks
1 pound sweet potatoes, peeled and cut into 1 1/2-inch chunks
1/2 cup low-fat milk
2 tablespoons butter
1 teaspoon brown sugar
3/4 teaspoon salt
1/4 teaspoon freshly ground pepper
Instructions:
Place potatoes and sweet potatoes in a large saucepan and add enough water to cover. Bring to a boil over high heat and cook until very tender when pierced with a fork, 20 to 25 minutes.
Drain the potatoes, then mash them in the pot to the desired consistency. Place milk and butter in a small bowl and microwave on High until the butter is mostly melted and the milk is warm, 30 to 40 seconds. (Alternatively, place in a small saucepan and heat over medium until the milk is warm.) Stir the milk mixture, sugar, salt and pepper into the mashed potatoes until combined.
Nutritional Information
Serving size: 2/3 cup; 151 calories; 4 g fat(3 g sat); 3 g fiber; 26 g carbohydrates; 3 g protein; 11 mcg folate; 11 mg cholesterol; 6 g sugars; 0 g added sugars; 9442 IU vitamin A; 13 mg vitamin C; 49 mg calcium; 1 mg iron; 320 mg sodium; 402 mg potassium