– A follow up to this review, reflecting on the FuelBand after 26 months of use can be viewed here.
About a month ago my wonderful wife gave me a Nike FuelBand, an accelerometer you wear on your wrist.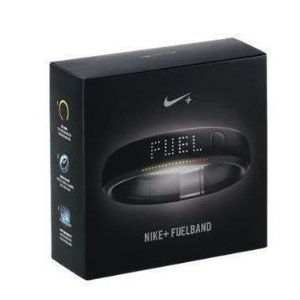 I set my goal at 3000 fuel points, the recommended amount for an active, but not superactive person. It has prompted me to meet my goal every day since I got it. I have had days that are just over 3000, where I have to walk the dog an extra time at the end of the day to get there and a few days in the 5500 range where I have gone for long hikes. The FuelBand tracks calories burned and steps too, but NikeFuel seems to be the currency of the product. NikeFuel is a weighted estimate of how much energy you burn that allows activity levels to be compared between people that burn energy at different rates; men, women, tall people, etc.
I had seen a commercial for the FuelBand in early 2012 and I immediately thought it looked really cool. It's black and low-profile and would be awesome looking even if it was just a watch. Every time you press the button it displays the time or how much energy you've burned, plus a progress tracker made up of a string of LEDs that starts at red early in the morning when you have not moved much yet, and builds to green later in the day once you have completed your goal. It looks like nothing else.
When I got it, I was a watch person already. I had been wearing a dressier one that I really liked, but I would only wear it at work or if I was going out. I keep the FuelBand on all the time. I don't want to take a chance on not getting credit for some movement I make in my sleep 🙂 The only time I take it off is to charge it, which takes about 40 minutes every three or four days. The clasp where it opens and closes is a USB that can be plugged into any computer. I often charge it while I am sendintarily answering emails and taking care of computer oriented whatnot at work. Plugging the FuelBand into your computer will also upload your recent progress data if you have downloaded the (free) Nike+ app. Downloading the Nike+ app to your smartphone will allow you to sync your recent data wirelessly to it as well. Once you have synced you get encouraging messages and you can view your progress. The best part of the Nike+ online or smartphone display is the line graph of your progress throughout the day.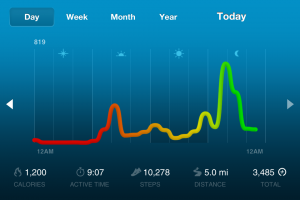 I am a big sucker for information graphics already so a graph like this, that is so intimate to me, where I can look across the hours of my day and consider how active I was at any given time is really cool. The graphs, which you can look at in days, weeks, months, or years give me insight into my activity level and how I am doing on my daily goals.
A couple of downsides – Before I got it, I was hoping the FuelBand would integrate with
the Livestrong MyPlate site that I use to track calories. This would help me develop a more comprehensive picture of my calorie situation. As it stands, counting calories/energy burned independent of calories consumed doesn't mean nearly as much. I hoped this would be the case because I always thought Nike was related to Livestong in some way, I guess because they sell both brands in sporting goods stores, but a cursory search of the internet does not indicate any relationship between the two. The other issue is that there are a few activities it doesn't track. It is only water resistant so, while you can wear it in the shower you're not supposed to go swimming with it. Supposedly it doesn't track biking either, but I bike to work and sometimes go on longer rides and I certainly seem to accrue some fuel points doing it.
Anyway, linking to a food tracking app and being able to swim with it would be nice but I am still loving the FuelBand. It looks awesome and it has helped me move more and be more mindful of my activity level.
Cost – $150
Verdict – RECOMMENDED