BBQ'd Sea Scallops with Stir-Fried Grilled Corn and Pea Shoots (423 Calories)
The Eat Smart, Move More, Weigh Less curriculum puts significant emphasis on cooking and eating more meals at home. We emphasize it because people that cook and eat more meals at home are more likely to achieve and maintain a healthy weight than those that eat out a lot. The curriculum mostly focuses on quick, simple meals because participants that are struggling to find the time and effort to make more meals at home are most likely to be inspired to cook by learning (tasty) strategies that fit into their busy lives.
This is all extremely reasonable. HOWEVER, I like to remind the participants in my classes that in addition to these simple solutions, there is a whole world of adventurous and delicious healthy meals out there to be explored, cooked, and eaten. Here's an example:
Here are the primary ingredients: Sweet Corn, Chive Flowers, Pea Shoots, Red Bell Pepper, Garlic, Scallops, Rice Noodles, and Hoisin Sauce. I used a few other ingredients that are not pictured including: Seasoned Rice Wine Vinegar, Soy Sauce, Sesame Oil, Black Sesame Seeds, Kosher Salt, Crushed Red Pepper, and Freshly-Ground Black Pepper. 
A picture of the fresh pea shoots after washing them in my salad spinner. Pea shoots are young leaves and shoots culled from snow pea plants.  They actually retain some of that sweet, crisp snow pea flavor, very delicious. You usually find them at Asian groceries and farmers' markets, but if that's too much trouble baby spinach is a perfectly acceptable substitute.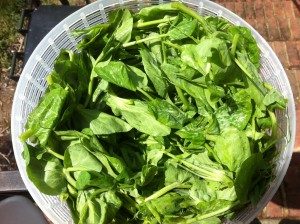 Corn on the grill. This is super easy; just shuck the corn and get your grill nice and hot. It adds a nice caramelized flavor. After it cooled I cut it off the cob and used it in the stir fry.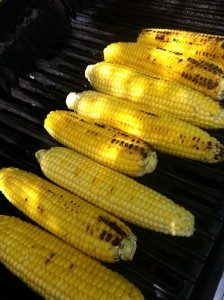 In addition to the corn, I put chopped red bell pepper, chive flowers, and garlic in the stir fry.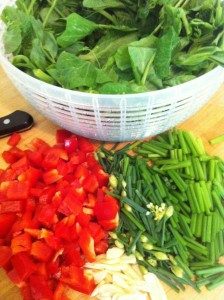 I chose rice noodles as the starch in this meal to complement the other Asian influences. I cooked them very quickly in boiling water, then drained them and tossed them with a bit of soy sauce, rice wine vinegar, toasted sesame oil, and crushed red pepper.
I dusted the scallops in salt and pepper and put them directly on the surface of a very hot grill.
After the scallops were off the grill I brushed them with hoisin sauce, a rich Chinese BBQ-like sauce.
I stir-fried the chive flowers, garlic, and bell peppers in a hot pan with a couple teaspoons of sesame oil.
After the chive flowers, garlic, and bell peppers softened a bit, I added the grilled corn which only needed to be heated as it had already cooked on the grill.
Then I added the pea shoots.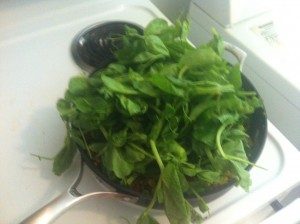 The pea shoots look pretty unruly at first, but as you can see, once they cook down they take up much less space in the pan.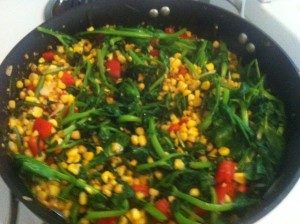 Here's the whole thing composed on a plate with a few black sesame seeds sprinkled over the top. It turned out beautifully and pretty dang tasty too, especially for being only 423 calories!