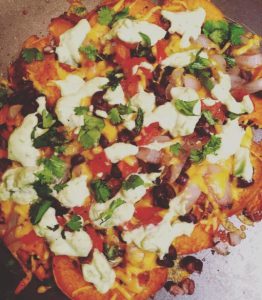 Football season is upon us. Whether it's setting up a tent at a tailgate or cheering for your team from your living room, having something to snack on is essential. My favorite NFL team was playing last night, and I was searching for something that I could munch on during the game. Traditional game day foods like potato chips taste great, but are loaded with fat. I wanted to try something different.
After searching I came across a recipe for sweet potato nacho fries online. Believe me- they taste and look as great as they sound; I had to snap a picture! The recipe was extremely simple, and only took around 20 minutes to prepare.
Ingredients:
2 tablespoons extra-virgin olive oil
2 medium sweet potatoes (about 1 1/2 pounds), cut into sticks about 1/4 inch thick
1/4 teaspoon salt plus a pinch, divided
2 tablespoons plain Greek yogurt or reduced fat sour cream
1 tablespoon lime juice
1 cup corn kernels, fresh or frozen
1/2 cup shredded Cheddar cheese
1/3 cup black beans, rinsed
1/2 cup cherry tomatoes, halved or quartered if large
2 scallions, sliced
1 avocado, chopped
2 tablespoons chopped cilantro (optional)
Directions:
Preheat oven to 425 °F.
Heat oil in a large cast-iron skillet over medium-high heat. Add sweet potatoes and 1/4 teaspoon salt. Cook, stirring occasionally, until potatoes begin to brown for 5 to 7 minutes. Transfer the pan to the oven and bake until the sweet potatoes are soft, 15 to 20 minutes.
Meanwhile, combine sour cream, lime juice and the remaining pinch of salt in a small bowl.
Top the sweet potatoes with corn, cheese and beans. Continue baking until the cheese is melted, about 5 minutes. Top with tomatoes, scallions and avocado. Drizzle with the sour cream mixture. Top the nachos with cilantro (if using).
Dive-in and enjoy!!