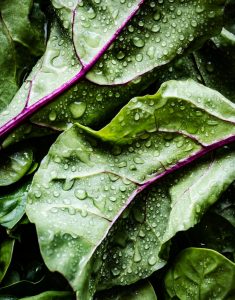 Preserving and reviving greens are two of the most essential kitchen hacks that I have learned as an aspiring professional home cook. Something that I often experience with greens and herbs is using only a small fraction of what I buy and forgetting the rest as it sits in the fridge for days on end. I have a simple trick to revive some of my fresh produce instead of trashing it.
My absolute favorite way to revive my greens and herbs is with a quick cold water bath for about 30 minutes and pat dry with a towel. This not only brings them back to life but also helps to remove any extra dirt or sand that has been hanging around. I recommend giving this a try next time you are questioning the quality of your greens and I promise you will be amazed!
With that being said, storage/preservation is an important tool to learn in order to best prevent your produce from going bad quickly. Most vegetables such as lettuce, cilantro and parsley, peppers, and broccoli do best in their own produce bags in the refrigerator. However, some others, such as basil, do much better in a pool of water at room temperature. Most importantly, you want to get an idea of how and when you will be using your greens, and make a plan to store anything you will not use. For more ways to preserve your vegetables, you should check out the 3 Tenets of Successful Farm Sharing post, which includes pickling and freezing your vegetables—a great way to make sauces!