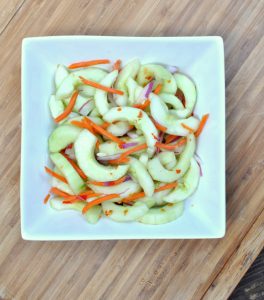 So I went with a friend last week to this incredibly tasty restaurant in Raleigh called Cowfish- delicious! Anyways, I ordered a Bento Box which came with small portions of edamame, sweet potato fries, 4 sushi rolls, a mini-burger, and much to my dismay… Thai cucumbers. Side note: I am ALWAYS up to try new foods, but I've learned over the years that I really, really, do NOT like cucumbers. They have always seemed so bland to me and the only way I'll eat them is if they are hidden in something else.
Hesitantly, I did end up trying them, and they were SO good! I am always looking for ways to consume more vegetables and I think I unexpectedly found my solution to help me eat more cucumbers. After we finished eating, I looked up a recipe for Thai cucumber salad to make in the future.
What you'll need:
3 large cucumbers peeled
1/2 cup "match stick" chopped carrots
1/2 diced red onion
1/4 cup sugar
1/4 cup rice vinegar
1/4 cup Red wine vinegar
1/4 cup Fresh Cilantro or to taste
2 tablespoons Sweet Chili Sauce
1 teaspoon salt
dash of lime juice
cup ¼chopped cilantro
Instructions:
Cut cucumbers in half long ways.
With a melon baller scoop out the seeds and pulp from center of cucumber.
Chop cucumbers up in 1/4 inch slices and set aside.
In a small saucepan with medium heat, melt sugar, salt and vinegars until sugar and salt are dissolved. About 2 minutes.
Remove from heat and cool.
Toss together cucumber, carrots, cilantro and red onion.
Pour vinegar mixture, Sweet Chili sauce and lime juice over cucumber mixture.
Marinate for a least 1 hour before serving.
I guess the moral of the story here is that it's important to keep an open mind when trying to develop a healthier eating pattern. When in doubt about a particular food item, try it! You might discover a new favorite food.