The idea of reading a book while exercising has people either cheering or booing – and I am cheering! As soon as it gets too cold for me to run or exercise outside I move indoors to the gym, but quickly get bored with the stationary machines. So this year, I decided to bring my book along with me.
I've heard all the negatives of reading while exercising on a stationary machine, such as the increased potential for injury and a decrease in exercise intensity (both because of attention focused on the book and not on the machine or exercise). Knowing these beforehand, I was able to avoid them and keep my intensity up. Some observations I have come across – if you are worried about the intensity of your workout decreasing, use a machine with a set speed like a treadmill or program on an elliptical or bike. If you are worried about potential for injury, use a machine that holds your feet into place like a stationary bike or an elliptical with slots for your feet.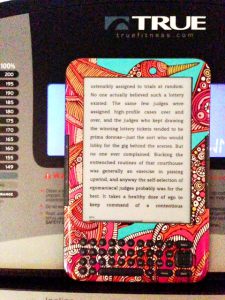 I chose an exciting, suspenseful novel and would soon be pedaling or walking faster as the story built up. My workouts would also fly by – I didn't even notice how long I was on the machine when usually I count down the minutes. I do have to admit that a Kindle or some other kind of eReader is a lot easier to use, and so maybe that's why I liked it so much. I have a Kindle and I can make the font large and there are no "pages" to hold down. I also have recently discovered audio-books through audible.com and I highly recommend it! The safest and easiest option, you can listen to your book while you exercise (and there is a free 30 day trial)! Everyone complains about not having enough time to exercise and not having enough time to read – so you can kill two birds with one stone and have a good time doing it!
So grab that book you've been trying to read and hit the gym this winter! Some quick and exciting reading recommendations? Gone Girl by Gillian Flynn, Defending Jacob by William Landay, and next on my list is Into the Darkest Corner by Jennifer McMahon.
You might also like:
Inhale Confidence and Exhale Doubt  – Overcoming Gym Intimidation
Don't miss another great blog: Subscribe Now