We all know after a long day at work, we just want to come home and relax. Sit down, maybe put our feet up, and survive the after-work slump. Making it difficult to get in that post-work workout.
We make excuses as to why we can't fit exercise into that busy schedule of ours. You know the ones…
"I don't have enough time."
"I'm too tired."
"Getting to the gym is a hassle."
"Gyms are too expensive."
Let's go ahead and derail these excuses. There is always time to better your health and move more.
Increasing your movement can be as easy as changing how you perform an activity that is already part of your daily routine. Best part, changing how you complete a task allows for little interruption to that busy schedule.
Next, exercise gives you energy! So, if you're feeling fatigued after a long day at work a little exercise can go a long way. What if work has you feeling stressed out or down? Well, exercise can also brighten your mood. When you exercise, your body releases a chemical called endorphins. Endorphins make you happy. Who doesn't want to be happy and productive?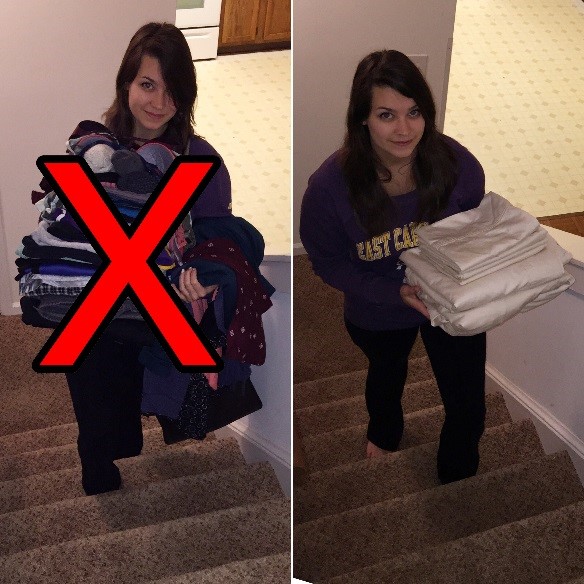 Lastly, if getting to the gym, or the cost of a gym membership, is keeping you from reaching your goals just know you have everything you need right there at home. Begin by pushing the furniture out of the center of the room to give yourself space to move. Try using household items as weights during an at home workout. Walking is free of charge, and with your feet on the ground you can go anywhere. Besides, the scenery will be way better than what you see on the treadmill at the gym!
Here are a few tips to start moving more at home:
Walk around the room or house while talking on the phone to get those extra steps.
Stand up while watching t.v. OR browsing the web for interesting blogs to read (like this one 😉 )!
Go a step further with the chores. You already have to do them, why not take advantage of your time.

Do calf-raises while washing dishes.
Get in some squats while finishing the laundry.
Make that extra trip up the stairs, when putting items away.

Make it a family affair.

Go for a walk around the neighborhood.
Have a dance party in the family room.
Play a game with your children that allows both you and them to move.

Finish up that yardwork. Now that it's getting warmer, it's a great time to go outside and burn some calories while giving your home a nice makeover.
You might also like:
5 Easy Ways to Reduce Screen Time
PLAY to Get 10,000 Steps a Day
Inhale Confidence, Exhale Doubt – Overcoming Gym Intimidation
Don't miss another great blog: Subscribe Now