Dear Crockpot,
I love you. You make my life easier….And this recipe is no exception!
By the way—I am a horrible, horrible cook, so if I can do this…ANYONE can do this.
I adapted this recipe from another recipe that I found in Rocco DiSpirito's Now Eat This cookbook.  I modified the recipe and some of the ingredients, but the way the end product looks is pretty much the same! Enjoy!!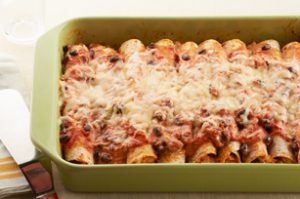 You will need: a crockpot, 13X9 inch pan
Serves: 3
Ingredients
3 boneless, skinless chicken breasts
2 16oz jars of salsa (any kind that you like!)
1 can of black beans (I use Kroger's Organic line because they are low in sodium)
1 bag of a frozen peppers and onions blend
6 low calorie, whole grain tortillas (I use these)
1 cup of 2% cheddar cheese, shredded
Line the bottom of your crockpot with the chicken breast and pour one jar of salsa, black beans, and frozen peppers and onions over top of it. Cook for 6-8 hours.
After the mixture has cooked in the crockpot, stir together.  The chicken should shred very easily.
Preheat the oven to 425 degrees.
On a plate, place one of your tortillas.  Add about 1/2 cup of the chicken mixture in the tortilla and roll up.  Place your rolled up tortilla in the 13×9 inch pan.
Repeat this step until you have used all of your tortillas.  Arrange tortillas so they are laying flat in the pan.
Pour the remaining jar of salsa over the tortillas and then sprinkle cheese over top.
Bake for 10-12 minutes.
It is okay if you do not use all of your chicken mixture–save it and put it over rice or another whole grain!  If you try this–let us know! Leave a comment or send us a picture of the final product