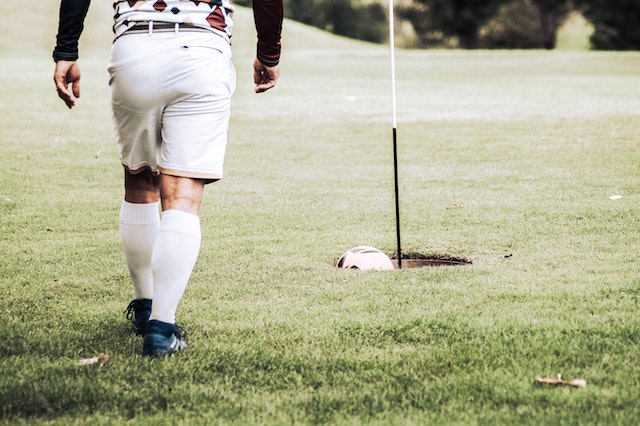 I was recently introduced to the game called FootGolf and it is a great physical activity that lets you hang with friends and spend an afternoon moving more! I have since learned it is much more official than just a game and is considered a sport. There is actually an American FootGolf Federation that was founded in 2011.
You are probably saying to yourself, what is FootGolf? Well, it is a sport that combines soccer and golf. The main goal is similar to the main goal of golf: to get the ball from the teeing ground into the hole in the least number of shots possible.
FootGolf is primarily played on golf courses or courses very similar to traditional golf courses. The flags, tee markers, and ball markers are the same or similar to golf. The ball must be a #5 soccer ball. The size of the FootGolf Cups are between 50cm-52cm and are at least 28cm deep to accommodate the soccer ball. You can play with indoor or turf soccer shoes (regular sneakers are also fine), but your shoe requirements may differ by course. The scoring is similar to golf as each hole has an assigned par.
FootGolf can be as fun or competitive as you want and would be a great family activity with older children. If you are lucky, there may be a free course in your area but it also appears that as the sport's popularity has grown golf courses are also now offering FootGolf rounds for a small fee. Some courses are 18 holes while others are 9 holes.
Basic Rules of FootGolf
*specific rules may depend on the course you are playing
Review the scorecard and wait for your turn. Make sure your kick will not interfere with other players.
Play the ball from where it lies.
The ball must be played in a single movement: your foot should be set separate from the ball, clearly behind, before the kick.
Wait to play until the ball has completely come to rest.
The player farthest from the hole is the first to kick the ball.
Kick off your ball from a position behind the tee markers.
Water Hazard: retrieve the ball and place it within 2 steps from the closest land point from where the ball entered the water.
Cleaning the ball is only allowed between the holes, not during active play.
Locate a Course Near You: https://www.footgolfusa.org/courses or contact a local golf course and inquire about FootGolf courses. You may even want to try your local Parks & Recreation Department.
Don't miss another great blog: Subscribe Now