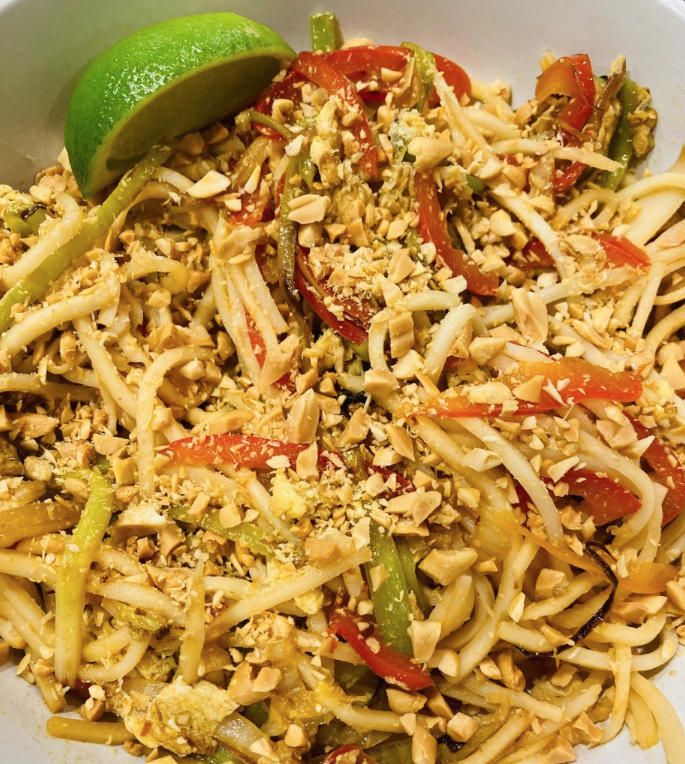 Pad Thai is certainly one of the most popular Thai dishes in the US. It has a sweet, sour, spicy combination that is hard to beat. Making it at home can be complicated with finding the traditional ingredients of Nahm prik Pow (hot sauce), palm sugar, tamarind sauce, fish sauce, etc. The noodles used for Pad Thai are rice noodles that, while delicious, don't have much nutritional value. This dish is inspired by the flavors of Pad Thai but uses ingredients that you are more likely to find at your local grocer. The rice noodles have been replaced by hearts of palm noodles that are growing in popularity. They are widely available online and in many grocery stores. Ask if you cannot find them as they can tuck them away in weird places. We have added more vegetables than you would normally find in Pad Thai to further improve the nutritional value. If you don't have fish sauce, you can just use all soy sauce. Sambal is an Asian hot sauce that is widely available in grocery stores, you could substitute Sriracha if you like.
Serves: 2
Serving size: ½ of recipe (263 grams)
Prep time: 30 minutes
Cook time: 15 minutes
Total time: 45 minutes
Ingredients
2 teaspoons sambal
1 teaspoon fish sauce
1 teaspoon low sodium soy sauce
2 teaspoons rice vinegar
1 teaspoon sugar
1 Tablespoon canola oil
2 cups vegetables – a good combination is shredded Napa cabbage, julienne peppers, julienne leeks – you can also use pea pods, green onions, carrots, or shallots
1 can hearts of palm noodles, drained well
1 egg, beaten
2 Tablespoons peanuts, coarsely chopped
4 lime wedges
Directions
Mix the first 5 ingredients to create the sauce and set aside.
Add the canola oil to a hot wok, stir fry pan or large skillet.
When the oil is hot, add the vegetables and stir fry until crisp tender.
Add the hearts of palm noodles and heat through.
Push the vegetable, noodle mixture to the side and add the beaten egg. Cook until done and fold the whole dish together.
Add the sauce and cook for a minute.
Taste and adjust the seasoning.
Top with peanuts and serve with lime wedges.
Nutrition Information per Serving
Serving Size: ½ recipe (263 grams)
Calories: 217 calories per serving
Carbohydrates: 12 grams
Fiber: 4 grams
Protein: 9 grams
Fat: 14 grams
Sodium: 623 mg
Don't miss another great blog: Subscribe Now