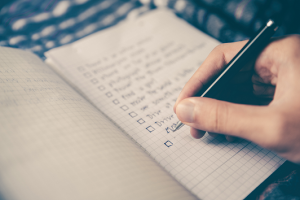 January 1st will be here before we know it. Every year, at least one person asks me what my New Year's resolution is and my answer has always been the same…I don't have one. Why? Because I like to think of the changes I want to make in my life on a continual basis, not just once a year.
We always know when the New Year is approaching because stores start pushing hand weights, yoga mats, and workout attire to the front of the store to grab your attention and gyms start advertising their winter specials on memberships. Of course, exercising more or losing weight may be the most popular New Year's resolution, but those aren't the only resolutions to consider – you may want to get more organized, spend less or save more money, or spend more time with family or friends.
Whether you choose to have a New Year's resolution or not, make sure that you have a sustainability plan. If I recognize that I need to make a healthy lifestyle change, such as getting more sleep each night or stretching every day to improve my flexibility, I plan out how it will look by creating SMART goals. This allows me to be very specific about what I am saying I want to do so that it doesn't just stay in my mind, but it becomes a well-thought plan that is doable and most importantly, written down!
Take time to write down the things that you want to change or improve in your life. Make sure these are things that you can accomplish within the time frame you set and continue thereafter.
As we prepare for a new year, start to think about resolutions to make throughout the year, be specific about what you want to do differently and don't hesitate to start making those positive changes now.
Don't miss another great blog: Subscribe Now