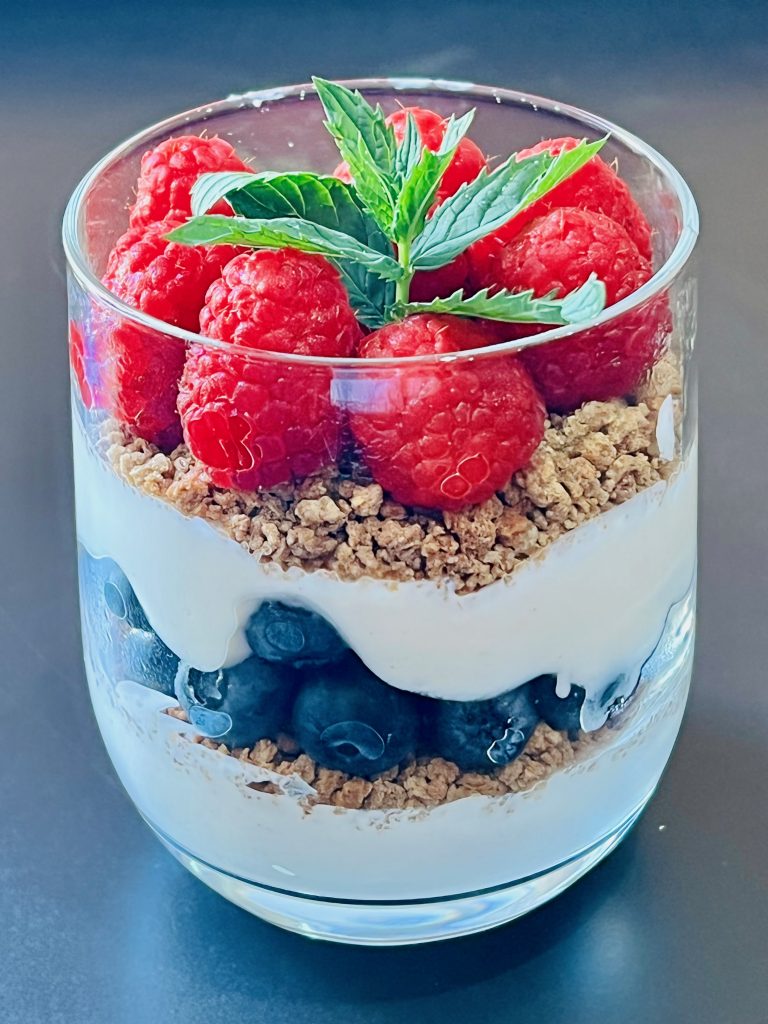 This summer yogurt parfait is inspired by the photo on a box of The Original Grape-Nuts cereal! This cereal has 0 grams of added sugar and is made with just 3 ingredients, one of them being whole wheat flour. Combined with Greek yogurt and layers of summer berries, this parfait is super easy to make and perfect for hot summer days.
My favorite yogurt options to make this parfait are the Less-Sugar Chobani (Madagascar Vanilla & Cinnamon) yogurt OR the Icelandic Provisions Skyr (Vanilla) yogurt. Both these are thick, creamy options and provide 13-15 grams of protein per serving with only 5-6 grams of added sugar.
To layer this parfait, you will need ¼ cup Grape-Nuts cereal, ¾ cup Greek yogurt of your choice, ½ cup blueberries, and ¼ cup (8-10) raspberries. Layer the yogurt, cereal, and one fruit, and then repeat with the rest. The recipe is versatile as you can substitute other fruits of your choice such as strawberries, mango, banana, peach, etc. You can also use any Greek yogurt of your liking, but make sure to check the Nutrition Facts label for added sugars as some yogurts can easily have more than 10 grams per serving.
I usually buy a 32 oz tub of the Less-Sugar Chobani (Madagascar Vanilla & Cinnamon) yogurt and assemble a few of these parfaits to have them ready in the refrigerator for a snack or for lunch. One thing to note, when making these ahead of time, is that the cereal will become soft which I do not mind. However, if you prefer it to be crunchy then assemble it right before eating which will only take a few minutes.
Nutrition Information
Calories – 280
Protein – 18 grams
Fat – 3.5 grams
Carbohydrates – 48 grams
Added Sugars – 5 grams
*The nutrition analysis below is based upon the Chobani yogurt listed above.
Don't miss another great blog: Subscribe Now