With 4th of July celebrations right around the corner, there will inevitably be an array of delicious foods to accompany those parties. When it comes to desserts, a good strategy is the one bite rule to avoid blowing your calorie budget. Just take one or two bites of your favorite dessert and then stop. To help follow this rule, I wanted to try out a couple dessert recipes that are made bite sized. Not only are these two desserts bite sized, but they also are under 100 calories! With fresh fruits like peaches, strawberries, and blueberries, nothing says summertime and 4th of July celebrations like these recipes do.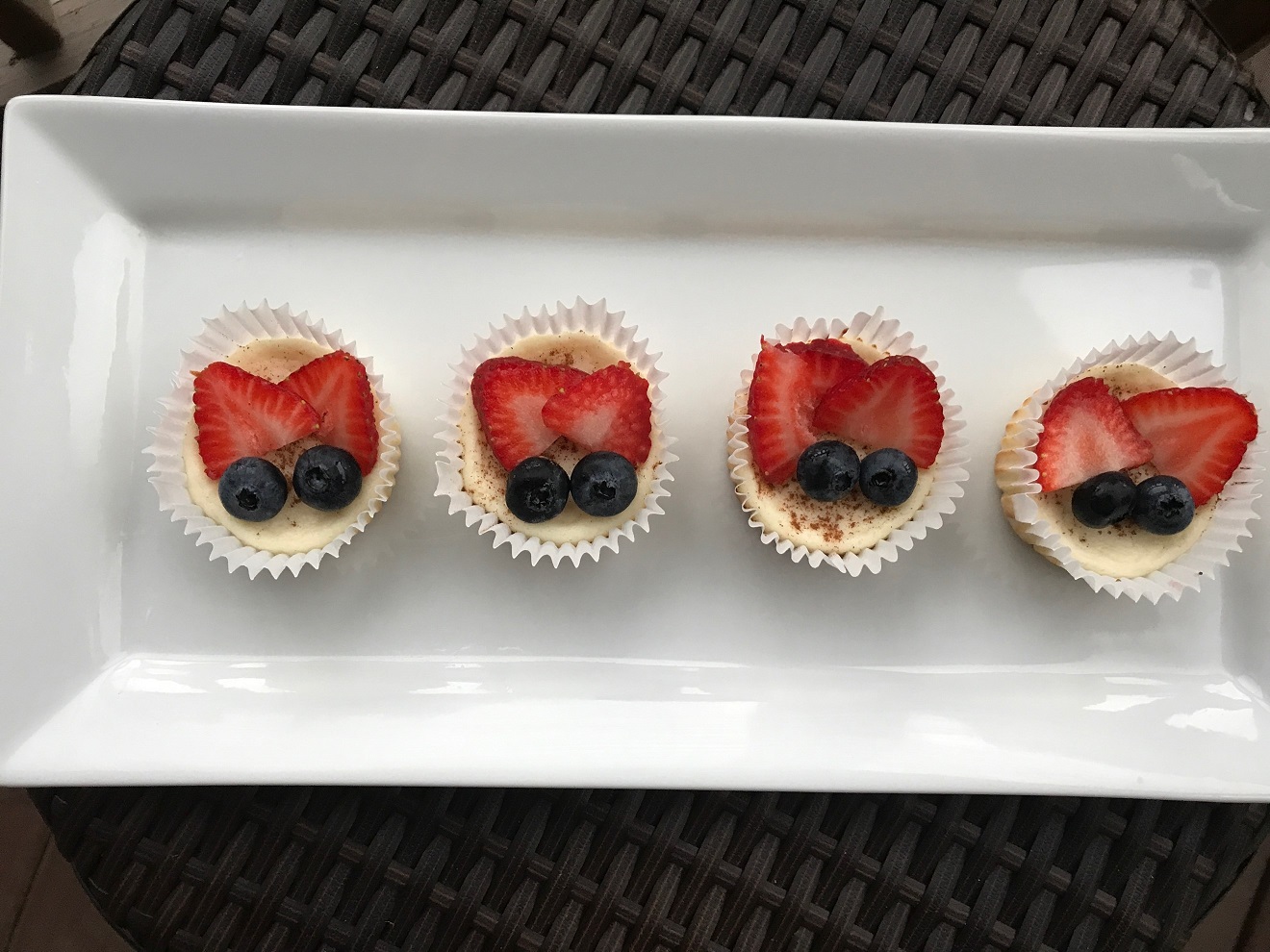 Red, White and Blueberry Cheesecake Yogurt Bites
Recipe adapted from Skinnytaste
Servings: 12
Total time: 1 hour 35 minutes
Prep Time: 10 minutes
Cook Time: 25 minutes plus 1 hour chill time
Ingredients:
12 reduced fat vanilla wafers
8 ounces 1/3 less fat cream cheese, softened
¼ cup sugar
1 teaspoon vanilla extract
6 ounces fat-free vanilla Greek yogurt
2 large egg whites
1 tablespoon all-purpose flour
8 ounces strawberries, sliced
8 ounces blueberries
dash of cinnamon
Directions:
Heat oven to 350 degrees
Line muffin tin with liners. Place a vanilla wafer at the bottom of each liner
Gently beat cream cheese, sugar and vanilla until smooth using an electric mixer
Gradually beat in fat free yogurt, egg whites, and flour. Do not overbeat.
Pour into cupcake liners, filling half way.
Bake 20-25 minutes or until center is almost set
Cool to room temperature and sprinkle with cinnamon
Chill at least 1 hour in the refrigerator
Before serving, top with fresh strawberries and blueberries
Nutrition Information:
Calories: 98
Total Fat: 4.5 g
Carbohydrates: 10.5 g
Sugar: 7.5 g
Protein: 3.5 g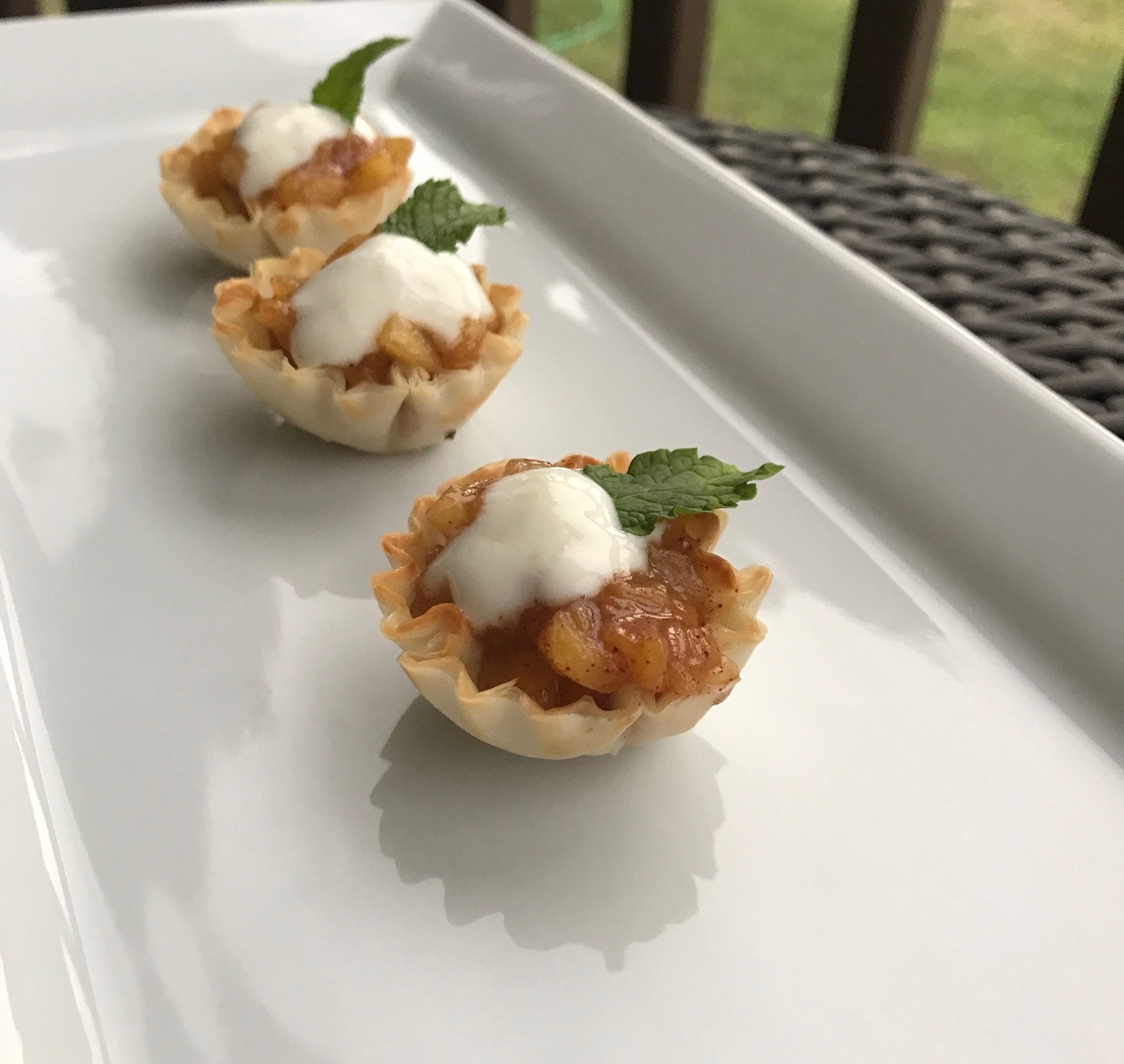 Mini Peach Pies
Recipe adapted from Diabetes Forecast
Servings: 12
Total time: 25 minutes
Prep Time: 15 minutes
Ingredients:
12 Mini fillo baked pastry shells (found in freezer section of the grocery store)
1 tablespoon light, trans fat-free margarine
2 ½ cups peeled and finely chopped fresh peaches
2 tablespoons brown sugar
½ teaspoon ground cinnamon
¼ cup water
1 teaspoon cornstarch
¼ cup nonfat Greek vanilla yogurt
Directions:
Allow fillo pastry shells to thaw and set aside
In a skillet over medium heat, melt the margarine.
Add the peaches, brown sugar, and cinnamon, and cook 6 to 8 minutes, or until softened.
In a small bowl, whisk together the water and cornstarch
Stir the mixture into the peaches and heat for 1 to 2 minutes, or until thickened.
Spoon the peach mixture evenly into the fillo pastry shells and allow to cool
Before serving, add a dollop of Greek yogurt
Nutrition Information:
Calories: 80
Total Fat: 1 g
Total Carbohydrate: 16 g
Sugar: 10 g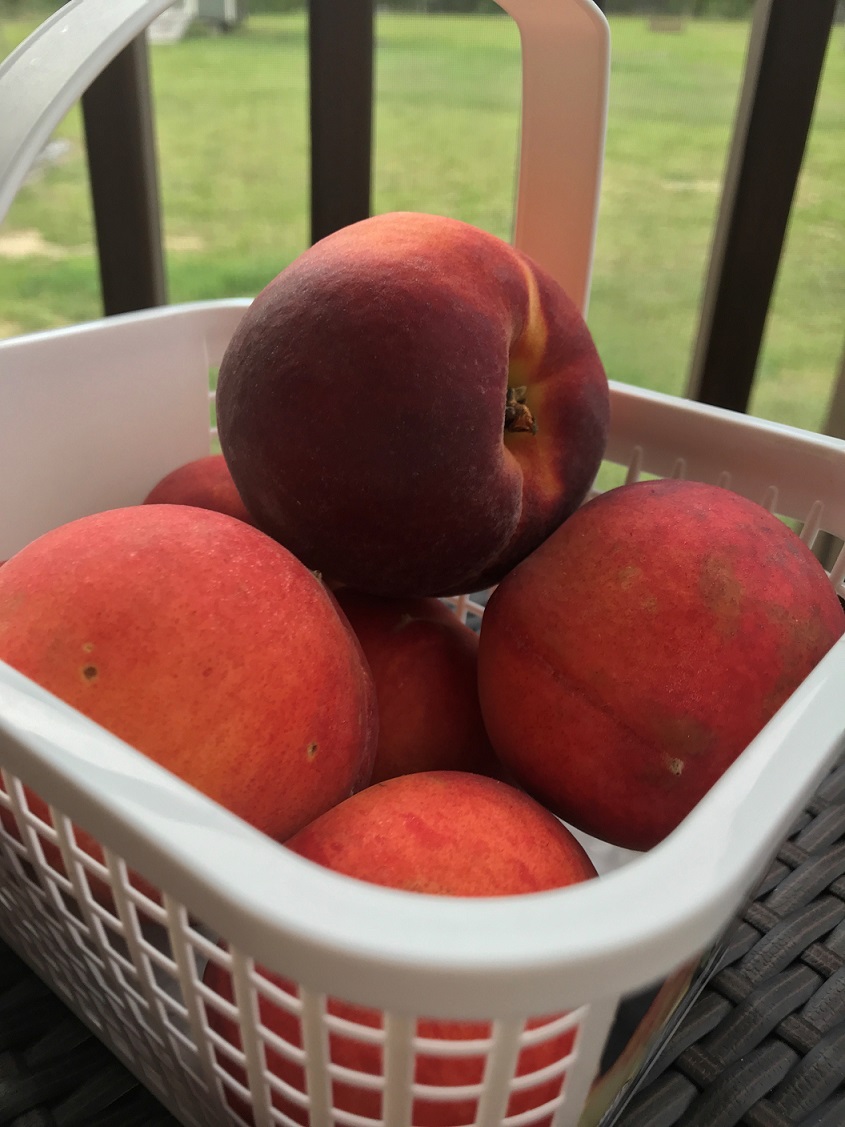 You might also enjoy:
What's in Season During the Summer?
When Vegetables Steal the Show: A Healthy Three Bean Salad Recipe
Healthy Recipes for the 4th of July
Don't miss another great blog: Subscribe Now