Love me; love my dog.
Dogs welcomed; humans tolerated.
It's call FURniture for a reason in my house.
Wipe your paws.
Yes, you've seen the signs for those of us who are proudly dog people. One may often underestimate my adoration for canines, but that would be a true mistake if you're trying to get to know the authentic Greg.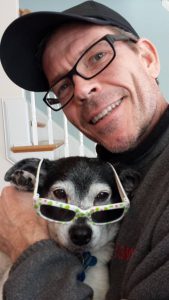 Thus, this is the first time I've ever written the words: TJ has died. Oh, it's easier to say TJ has gone to Rainbow Bridge. Yes… but it doesn't hide the facts that TJ has died and will not be my companion again. Those words took almost half a year to type, since we said our sad farewell to our precious TJ on January 7, 2016. I will not soon forget that fateful day, because we had an important meeting of Eat Smart, Move More, Weigh Less and the-newly-formed Eat Smart, Move More, Prevent Diabetes meeting for all instructors on that day.  Additionally, my mom was hospitalized in Durham simultaneously to both events occurring. Yes, when it rains, it truly does pour.
My movement buddy, my constant support buddy, my stress-management buddy, my best friend and canine son left the biggest hole in my heart that I have felt in half-a-century of living. The pain was (is) so great that I never posted about it on social media—some things are too sacred to share with the world. Those who know me, reached out in appropriate ways. Those who I thought knew me may have failed to understand the impact of this almost-18-year-old dog on my life.
Of course, I teach in our MOVE MORE lessons each series about what gets me going off the couch and that always includes my pooches. So, it was the dog days of winter this past season that brought me down somewhat, both physically and mentally… not knowing if Spring and now Summer would ever come into my heart again.
GOOD NEWS—Spring always comes and Summer always follows (Rusty Knees blog to follow) . For now, I encourage my fellow sojourners on this journey into eating smart and moving more (those who also count themselves among the true dog-lovers out there ) to strap on that leash for their best pal and head to the dog park or trail or sidewalk to work on those 150 moderate aerobic minutes for the week and salute my TJ and all his loving exuberance of 18 years for my life.
Here's hoping you're hydrating well during our hot and humid Dog Days of Summer 2016 and may the dog days of your winters be brief and manageable.