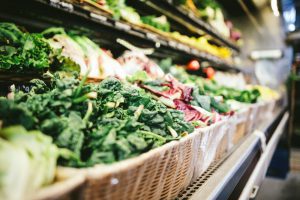 When I started eating healthier, I noticed the prices of the fresh produce. At first, I didn't understand why strawberries were $4 during the summer and $6-7 in the winter; I learned that different seasons yield better types of fruits and vegetables. Certain types of produce, like kale and tomatoes, can be grown year-round. Produce that is in season can taste fresher and sweeter.
One of the easiest places to buy fresh produce that is in season is your local farmer's market; these also help support local farmers. On weekend mornings, I enjoy going to the farmer's market to start my day; there is always a wide variety to choose from. Sometimes, I may find a vegetable that I have never heard of before and can look up recipes including that item.
Depending on your geographical location, some of these items may vary but this is generally the fruits and vegetables you can easily find in the winter months:
Vegetables:
Artichokes
Beets
Broccoli
Brussels sprouts
Cabbage
Carrots
Cauliflower
Celery
Collard greens
Kale
Onions and shallots
Potatoes and sweet potatoes
Radish
Spinach
Turnips
Winter squash (yellow squash, acorn squash, butternut squash, pumpkin)
Fruits:
Cranberries
Grapefruit
Kiwis
Kumquats
Lemon
Oranges, blood orange, and tangerines
Pears
Pomegranates
Tomatoes
No matter where you purchase your fresh produce from, remember to properly wash, dry, and store them. Try putting the fruits and vegetables in clear containers so they can be seen for a quick snack.
If you are eager to put your new ingredients to use, try this recipe for a Mediterranean Three Bean Salad.
Don't miss another great blog: Subscribe Now