I am sharing my favorite recipe for cabbage stir-fry made Indian style – it is super easy to make. The combination of green cabbage with carrots and peas makes this dish so colorful and tempting. The spices bring out a flavor that is hard to resist. You can adjust any of the spices listed in the recipe below to suit your taste.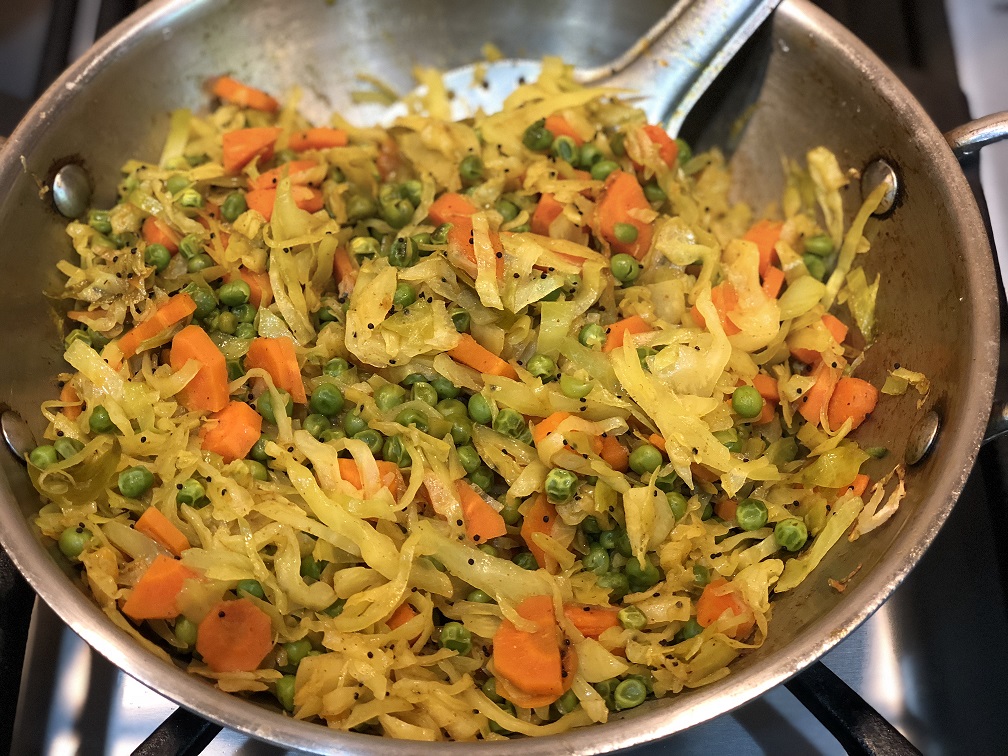 Indian Cabbage Stir-fry
Ingredients:
½ head of green cabbage, shredded
3 carrots, peeled and chopped
1 cup (approx. ½ bag) frozen baby sweet peas
3 tbsp olive oil
1 tsp black mustard seeds
1 tsp turmeric powder
1 tsp red chili powder
½ tsp garam masala (optional)
Salt to taste
Directions:
Heat olive oil in a skillet. Once hot, add all spices except salt and sauté for one minute.
Add all vegetables and mix well. Add salt.
Cover with a lid and cook on medium heat with occasional stirring every few minutes. Lower the heat or sprinkle a few drops of water if the mixture sticks to the bottom of the skillet.
Cook until the vegetables are cooked to desired tenderness. I like it well done.
Makes six servings.
Once ready, this vegetable dish can be enjoyed in a couple different ways:
Fill it in a whole-wheat pita pocket with a side of plain yogurt.
Put it on a whole-wheat toast and broil for a few minutes until the top portion is roasted. Makes a great breakfast toast if you have leftover from before. I also like to add a slice of cheese under the cabbage before broiling.
Wrap in a whole-wheat tortilla with a sprinkle of hot sauce for a snack.
Eat with an Indian style bread, chapatti or roti with a side of lentils.
Nutrition Information per Serving*:
Calories – 110
Fat – 7 grams
Protein – 3 grams
Carbohydrates – 11 grams
* Calculated using MyFitnessPal recipe analyzer, www.myfitnesspal.com/recipe/calculator
Don't miss another great blog: Subscribe Now