Spinach is one of my favorite green leafy vegetables – I can add a bag of spinach, raw or cooked, to any dish and I know I will love it! This includes wraps, sandwiches, pasta, quesadillas, etc. Sometimes, it is just spinach sautéed with Indian spices – yum!
For this blog, I want to share my favorite pasta recipe with spinach. It's super simple and tastes delicious. For some reason, the combination of spinach with mushrooms and pine nuts makes my taste buds really happy.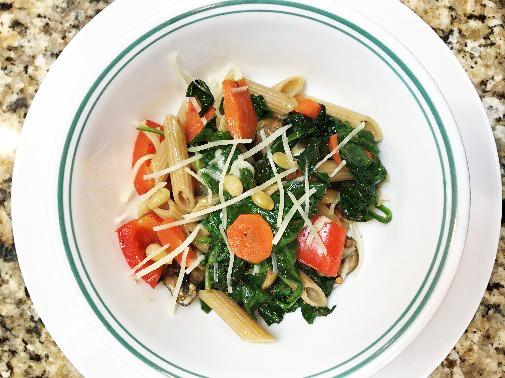 Spinach and Pine Nut Pasta
Recipe makes 5 servings
Ingredients:
100% whole wheat pasta, ½ of 16 oz. box
Fresh spinach, ½ lbs
Baby mushrooms, 8 oz
Red pepper, 1 cup (diced) ~ 1 whole pepper
Carrots, 2-3 (diced)
Pine nuts, ¼ cup
Olive oil, ¼ cup
Minced garlic, ½ tsp
Fresh parmesan cheese, ½ cup (grated)
Salt to taste
Crushed red pepper to taste
Directions:
1. Cook the pasta according to package instructions. Keep aside.
2. Heat the olive oil in a large skillet. Add garlic and pine nuts and sauté until light brown.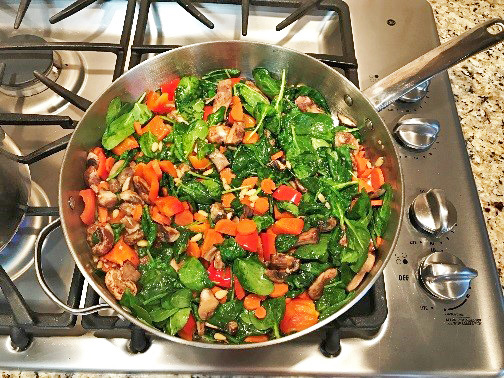 3. Add spinach, mushrooms, red pepper, and carrots. Sauté for few minutes until cooked to desired softness.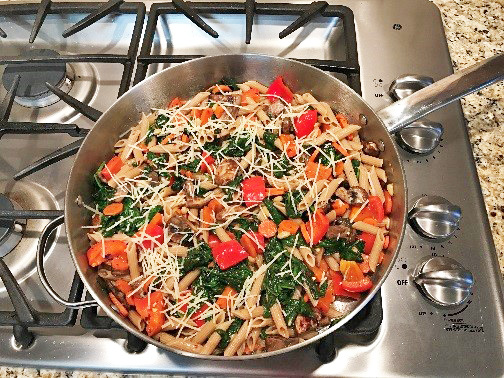 4. Add the pasta and salt. Mix well.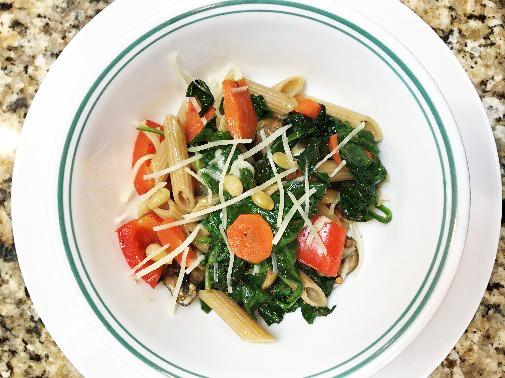 5. Serve with a sprinkle of Parmesan cheese and crushed red pepper flakes as desired.
Nutrition Information per Serving:
Calories: 280 calories
Fat: 19 grams
Sodium: 310 mg
Carbohydrates: 24 grams
Fiber: 5 grams
Total Sugars: 6 grams (Includes 0 grams Added Sugars)
Protein: 10 grams
You might also like:
Easy Weeknight Meal: Stuffed Peppers
The Ultimate Cheap, Easy, and Healthy Meal: Slow Cooker Split Pea Soup
Don't miss another great blog: Subscribe Now