Soups are my favorite go-to during the winter season. I love almost any and all soup flavors, but I try to stick to broth-based instead of cream-based to make sure it fits within my calorie budget. I also love the simplicity of soups, many of them are easy to throw together (especially in the crock pot). To see my favorite soup recipes I have tried so far (and continue to make often), click here: Tried and True Recipes.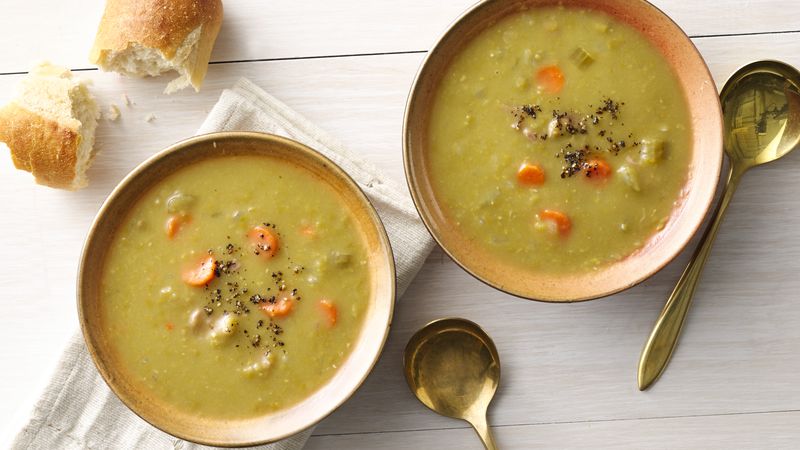 Although many soups are easy and affordable, I have found the ultimate easy, affordable, and healthy soup. Vegetarian Slow Cooker Split Pea Soup. I was skeptical this soup would still have adequate flavor with the minimal ingredients and without the traditional ham that accompanies many split pea soups. I was pleasantly surprised by this velvety, comforting soup. This is the perfect dish for winter, it will warm you up and keep you full (25 grams of protein per serving!). Let me just say that again. 25 grams of protein per serving and this is a vegetarian meal that costs less than $3.
That brings me to point number two about this soup: It. Is. Cheap. Less than $3 for the meal and less than $1 per serving. I have included my grocery bill below (I had salt, pepper, and olive oil on hand). Dry split peas and lentils are always great and affordable options.
Grocery Bill for Split Pea Soup
Carrots: $0.99 for a 32 oz. bag, ~$0.32 for 4 carrots
Yellow Onion: ~$0.16 per onion at Harris Teeter
1 lb dry split peas: $1.29 at Harris Teeter, on sale for $0.99 (located in the dry beans and rice section)
Celery stalks: $1.99 for the bunch, $1 for four stalks
Olive oil
Salt and pepper
Optional spices: bay leaves, oregano, smoked paprika, or thyme
Total for grocery bill: $4.13
Total for meal: $2.47
Total for serving (serves 4): $0.62
Finally, this soup could not be easier. Chop the vegetables, throw it all in a slow cooker, and serve 8 hours later. Boom.
Vegetarian Slow Cooker Split Pea Soup
Adapted from The Kitchn
Ingredients:
1 pound dried split peas
1 onion, chopped
4 medium carrots, peeled and chopped
4 celery stalks, chopped
2 Tablespoons olive oil
1 teaspoon salt
Freshly ground black pepper
6 cups water
Optional spices: Oregano, Bay Leaves, Smoked Paprika, or Thyme
Directions:
Place the split peas in an even layer in the slow cooker. Add the onion, carrot, celery, olive oil, salt, pepper, and spices. Add the water (no need to stir), cover, cook until the peas as soft, 5 to 6 hours on high or 8 to 10 hours on low.
You might also like:
Quick Breakfast: Muffin Pan Quiche
Easy Weeknight Meal: Stuffed Peppers
Don't miss another great blog: Subscribe Now