For the past few years, I have been making numerous variations of muffin pan quiches. It originated from Eating Well's Mini Mushroom and Sausage Quiche recipe (which was featured in the Holiday Challenge), but I found that I started throwing in my own vegetable combinations and more often than not opted for a vegetarian option (trying to avoid processed meats as much as possible). It even got to the point of no longer following a recipe, just throwing together a combo of egg whites and whole eggs, a little milk, and then any and all vegetables I had on hand until the muffin cups were full.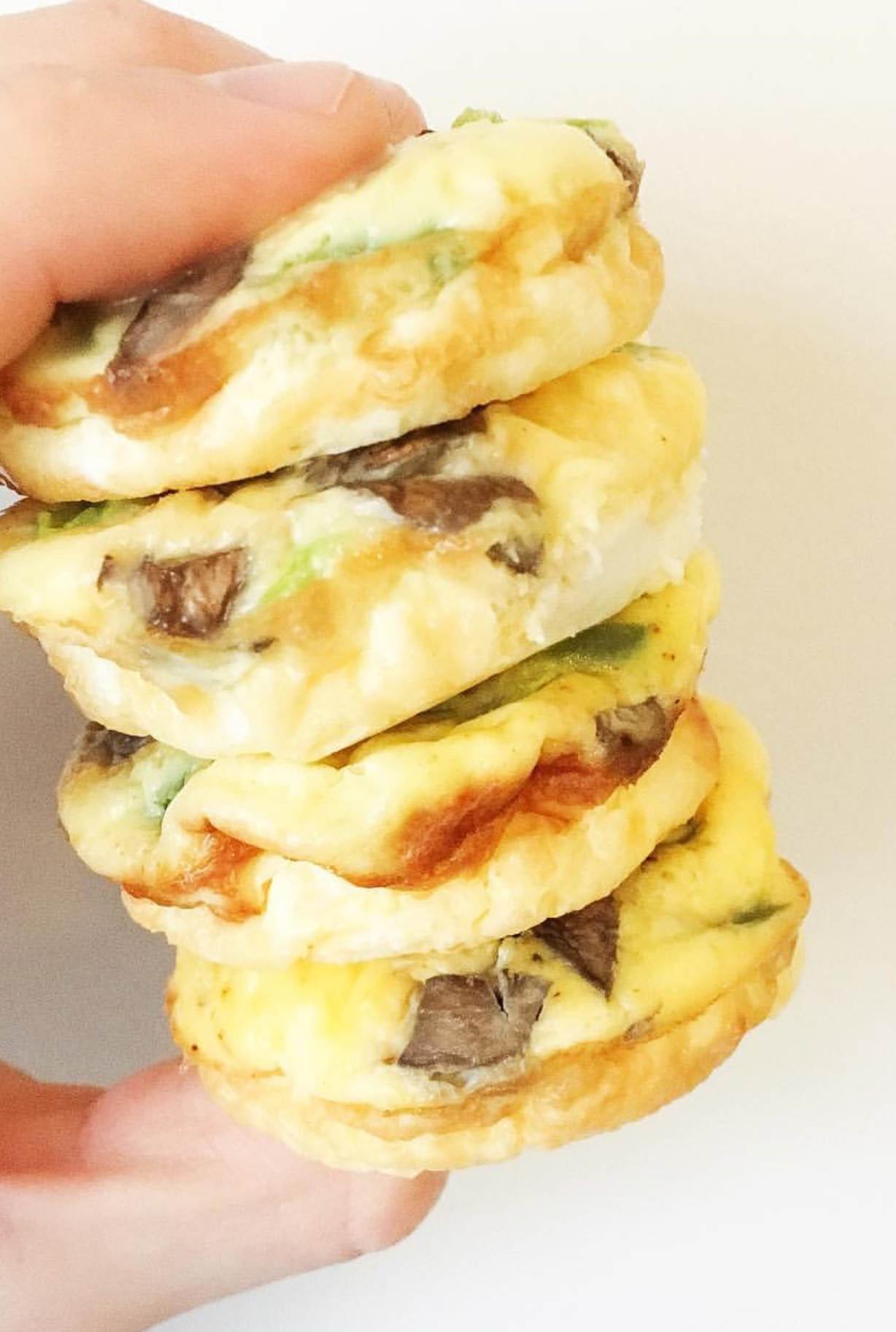 When friends or family would ask for the recipe, the only one I had written down was the mushroom and sausage version. SO, I decided to jot down my favorite combo and share it with you all!
These mini muffin pan quiches could not be easier. Make a large batch on Sunday and use for the week. They are also easy to freeze and save for later – just wrap each up in saran wrap, place in a freezer bag, and call it a day. When you're ready to enjoy, just unwrap and microwave until warmed through. This is my go-to breakfast when company comes to town or when someone has a baby (or illness, or death in the family) and needs a healthy and easy breakfast. Play around with the recipe and make it your own!
Muffin Pan Vegetable Quiche
5 eggs
3 egg whites
8 ounces mushrooms, sliced
1 cup fresh spinach
1 cup 1% or skim milk
¼ cup shredded cheese
¼ cup sliced scallions (optional)
Directions
Position a rack in the center of the oven; preheat to 325 degrees. Coat a nonstick muffin tin generously with cooking spray or line with foil baking cups.
Whisk eggs, egg whites, and milk in a medium bowl. Divide egg mixture evenly among the prepared muffin cups. Sprinkle the vegetables and cheese into each cup.
Bake until the tops are just beginning to brown, 25 minutes. Let cool for 5 minutes. Flip the quiches out of pan and let cool completely.
Tip: Can use any preferred vegetable combination. Try red peppers, broccoli, or tomatoes.
Nutrition Information:
Serves: 12
Serving Size: 2 quiches
Using skim milk: Calories: 121; Total Fat: 5g; Saturated Fat: 2g; Cholesterol: 160 mg; Sodium: 189 mg; Potassium: 162 mg; Total Carbohydrate: 4g; Dietary Fiber: 1 g; Sugar: 3g; Protein: 14g.
You might also like:
Making Sense of All the Different Types of Oatmeal
5 Healthy Items to Buy at Costco
Fastest and Easiest Way to Make Steel Cut Oats
Don't miss another great blog: Subscribe Now