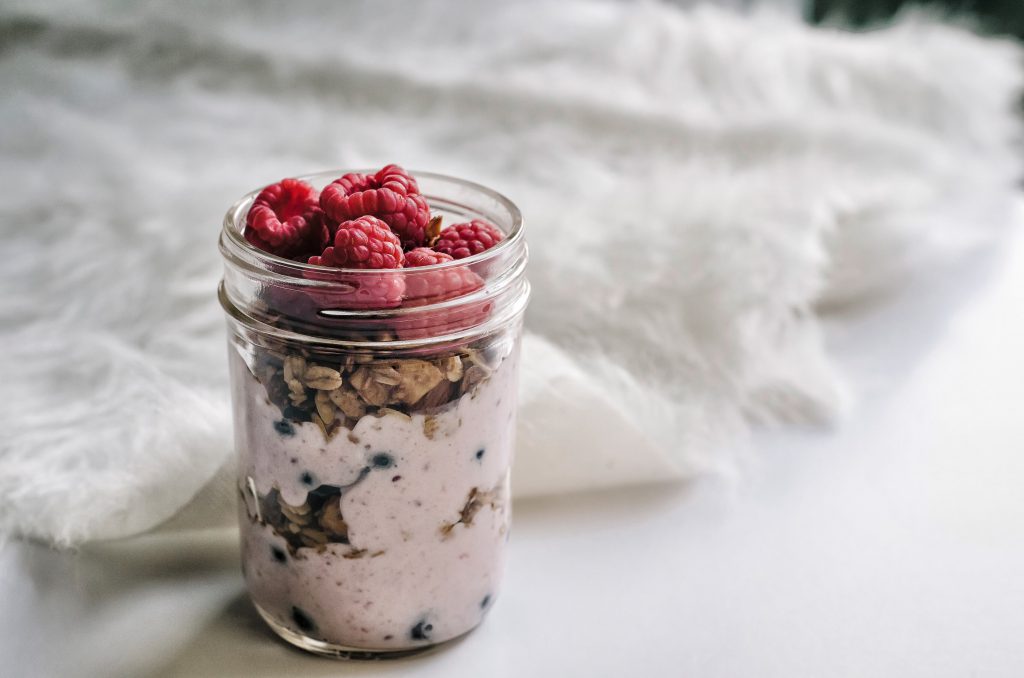 Why Overnight Oats?
This is one of the fastest recipes to put together that I know of.
Oatmeal has a lot of fiber, and overnight oats recipes can pack a good amount of protein as well. This should keep you full for longer, give you a lot of energy to start your day, and fiber helps lower blood sugar.
Doing meal prep means you can make these the night before so that it's something you can grab and go to start your morning. This means you'll be less likely to skip breakfast.
It's delicious!
Recipe for Overnight Oats
Use this as a ratio and scale up or down as needed.
1 cup rolled oats
1 cup milk (any kind)
½ cup Greek yogurt
1-2 tsp chia seeds (optional)
¼ tsp ground cinnamon or other flavoring
Combine ingredients and divide into individual jars or containers if desired. Refrigerate for at least 4 hours, preferably overnight. This will store well in the fridge for 3 to 4 days. Top with fruit and nuts just before serving.
Tips for overnight oats:
– Use rolled oats, sometimes called old fashioned oats, rather than instant or steel cut. If you want more information about the different types of oats, read more here.
– Get creative with your milk! This is a great recipe to try out non-dairy milk options – my favorite is almond milk since it brings some additional flavor to the mix (just be sure you find unsweetened milk).
– Using cinnamon and a drop of vanilla can bring a lot of flavor to your oats and prevent the need for added sugar. If you're using unsweetened/unflavored milk and yogurt, you could also include a small squeeze of honey for some added sweetness.
– The sky is the limit when it comes to fruit and nut toppings to include! Bananas and berries are the most popular toppings – though don't soak these overnight with the oats; add as a topping just before eating. Or try something unique, such as persimmons, which go great with vanilla and almond flavors.
– Chia seeds are a polarizing ingredient. If this will make you hate the texture, leave them out. Chia provides a ton of omega-3s, fiber, and protein per serving, which makes them an awesome addition. Honestly, I just like the texture better with them in there.
– Nut butters are a great addition as well, which would go in at the beginning if you decide to use them. You can put in a couple tablespoons of natural peanut or almond butter.
– Feel free to adjust any ingredients to make it how you like – if this ratio isn't thick enough for you, cut back on the amount of milk you include, for example.
Nutrition Information per Serving
Serving Size: 8 ounces
Calories: 270
Fat: 7 grams
Sodium: 105 mg
Carbohydrates: 38 grams
Fiber: 6 grams
Sugars: 9 grams (Includes 0g Added Sugars)
Protein: 16 grams
Don't miss another great blog: Subscribe Now