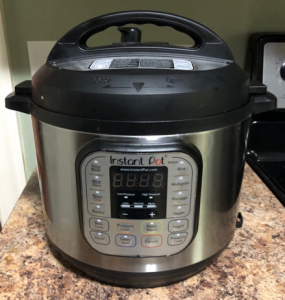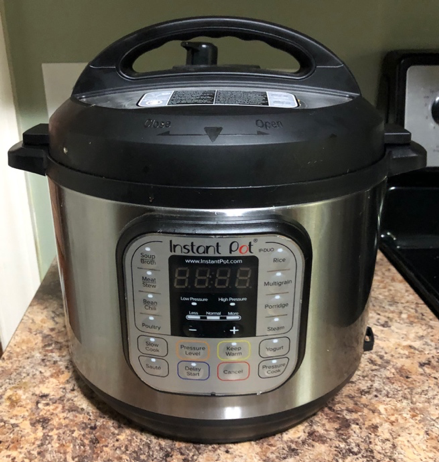 For many of us, Black Friday shopping is as much a part of our Thanksgiving tradition as the turkey is. Whether you are out at 5 AM shopping on Black Friday, or online shopping from home on Cyber Monday, take advantage of the sales and buy an Instant Pot! You may have heard of the Instant Pot or seen it advertised, but what exactly is an Instant Pot? The Instant Pot is a countertop pressure cooker with multi-function options such as slow cooking, rice cooking, sauté, and yogurt making. It reduces cooking time and uses less energy than traditional kitchen appliances.
I used to be pretty skeptical of this kitchen appliance- I thought it was another "fad" kitchen item that would just end up in a box in my garage before long. Here at Eat Smart, Move More, Weigh Less, the Instant Pot is a favorite kitchen appliance and after hearing some of the amazing benefits from my coworkers (like frozen chicken breasts ready in 12 minutes!), I had to try it. I ended up receiving the Instant Pot as a gift and after using it for the first time, it definitely lived up to the hype.
Now, I use my Instant Pot on a regular basis, usually at least three times per week. I make everything in it from chicken dishes, pasta, hard boiled eggs, and steamed vegetables. A fun part of using this new appliance for me has been trying out new recipes like this Instant Pot Weeknight Chicken and Rice Burrito Bowls. To find new recipes, I usually just google "Instant Pot" and then whatever I am in the mood to make. There are also plenty of great cookbooks out there featuring Instant Pot recipes.
If you do end up buying an Instant Pot, I recommend starting out with something relatively simple to learn how the process works. An easy starter recipe is making mashed sweet potatoes. Simply wash, peel and dice the potatoes into 2-inch chunks. Add 1 cup of water to the inner pot and add potatoes. Seal the Instant Pot and set on high pressure for 4 minutes. If you are interested in buying one, this Top 100 Instant Pot Questions Answered is a great resource for beginners.
Don't miss another great blog: Subscribe Now