By now you may have heard about the air fryer craze. This kitchen gadget has rivaled the Instant Pot for trendiest cooking invention of the decade, and for good reason!
Air fryers work by circulating hot air around a metal mesh cooking basket, allowing the food to cook evenly and quickly with little to no added fat. As part of a healthy lifestyle, air fryers can offer an alternative to high calorie styles of cooking.
I am the first to admit it is not an attractive appliance. Slightly bulky with a small digital screen, I often refer to it as the UFO. However, you may come to use it so often that it is worth leaving on the counter for ease. One of the best parts is that the attachments are dishwasher safe!
Some of my favorite foods to cook in the air fryer are vegetables (like air fried sweet potato fries) and chickpeas. From frozen bags of broccoli to canned chickpeas, cooking with an air fryer can help you load up your plate with more nutrient dense, lower calorie foods!
Tip: Use your air fryer for reheating cooked items. The hot circulating air reheats cooked food quickly without drying it out. Leftover grilled chicken? Throw it in the air fryer! Made too many meatballs? Freeze some and reheat in the air fryer when you need a quick dinner option. Frozen veggie burgers? Reheat them in the air fryer for a crunchy texture.
See below for a satisfying snack of air fried spiced chickpeas.
Air Fryer Spiced Chickpeas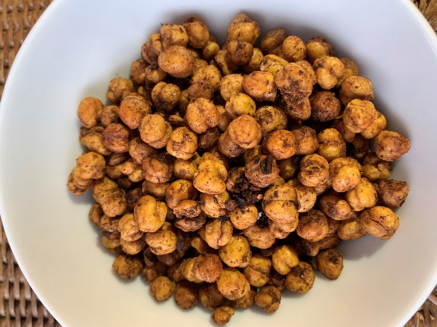 Ingredients
1 (15 oz) can chickpeas, rinsed and drained
½ teaspoon salt
½ teaspoon chili powder
½ teaspoon ground cinnamon
¼ teaspoon smoked paprika
¼ teaspoon ground ginger
1 tablespoon olive oil
Directions
Turn air fryer on to 400F for 3-5 minutes to preheat.
Dry chickpeas very well with a paper towel, rubbing off loose skins.
Combine spices in a small bowl.
Toss chickpeas first with olive oil and then add the spices.
Cook for 15-20 minutes, shaking the basket a few times during cooking. The chickpeas should be dry and crunchy when ready.
Serve warm or room temperature. Can store in an airtight container for up to 2 weeks.
To make these in the oven: Follow the above directions for prepping the chickpeas. In an oven preheated to 400 degrees, roast for 20-30 minutes, shaking the pan to stir them up every 10 minutes.
Here are a few more of my favorite air fryer recipes:
Don't miss another great blog: Subscribe Now