While there are a lot of fun and easy-to-use single task kitchen tools (think avocado knives, garlic presses, etc.), there are super affordable multi-task tools that can save you time, money, and space! I love these the most, and they make cooking healthy at home so much easier!
Microplane


I am always preaching about my microplane, and I truly think it's one of the most helpful and wonderful kitchen tools out there. If you're like me and have very limited storage space, this can cover several hand tools in one. Unless you're super fancy, you won't need an additional zester or grater.
Shred hard cheese: often, buying cheese in blocks is cheaper than shredded, and you'll get a much finer and fluffier result – wonderful for topping dishes, and offering a quicker and smoother melt when incorporating the cheese.
Zest citrus: these can make zesting a snap! Just remember not to zest the white part of citrus skin – it is bitter.
Grate fresh ginger: besides bringing a punch of flavor, ginger offers many health benefits, including preventing nausea and reducing inflammation.
Grate fresh nutmeg: one of the most underrated spices is fresh nutmeg! Once you try it fresh, you'll never go back.
Shave chocolate: Delicious!
Mortar & Pestle
The mortar and pestle is the key to making healthy food taste good easily. Plus, after the initial seasoning, you don't even need to spend time cleaning them – just wipe them out with warm water.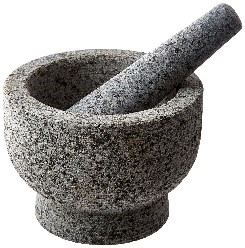 Garlic: never mince your garlic again! A couple of good hits to the clove and it is smashed and ready to use. This is why I don't have a garlic press!
Pepper: save money and add flavor buy buying whole peppercorns and grinding a few fresh to top your food. It really only takes a few seconds.
Pesto: A healthy alternative to sauces and toppings, a simple smash of basil, garlic, pine nuts, and salt will go quick and easy in here.
Spice mixes: even when using dry spices you already have in your pantry, this method can combine them well, or combine them with garlic to make an excellent paste to rub on meat or vegetables before cooking, or to base a sauce or curry on.
Guacamole and dip: Smashing up avocado and its friends has never been easier! Try it for salsas and other dips as well
Horizontal Peeler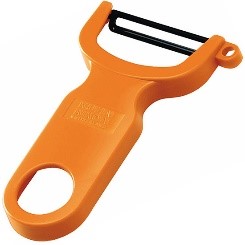 For some reason, I always had vertical peelers instead of this Y-shaped model. Apparently most cooks use this style, and once you feel the ergonomics of it, you'll get why!
Peel fruit and vegetable: Obvious one – what it's named for! Consider peeling celery to take out the strings and make it easier to snack on.
Shave cheese: Yes, I am all about the cheese! When you want to top food with bigger shavings of hard cheese, this tool is perfect. You could do the same with chocolate for large shavings as well.
Soften butter: If you're like me, you often forget to pull butter out of the fridge when it needs to be softened for a recipe. If it's still cold, the peeler just breaks it up into smaller pieces so it warms much more quickly. Or, try cooking with a heart-healthy oil instead.
And there you have it! Hopefully these tools will help you find cooking simpler, faster, and more fun with some of these multi-tools. Get creative!
Have you used one of these tools for something I haven't thought of here? Let us know!
Don't miss another great blog: Subscribe Now