Quinoa is a whole grain that provides complete protein along with other nutrients. It is a great addition to a healthy eating pattern but many people are not familiar with this super food or may not know how to cook it. The recipe below is one of my favorite ways to cook quinoa. It is not only delicious but also very easy and quick to make in a time crunch.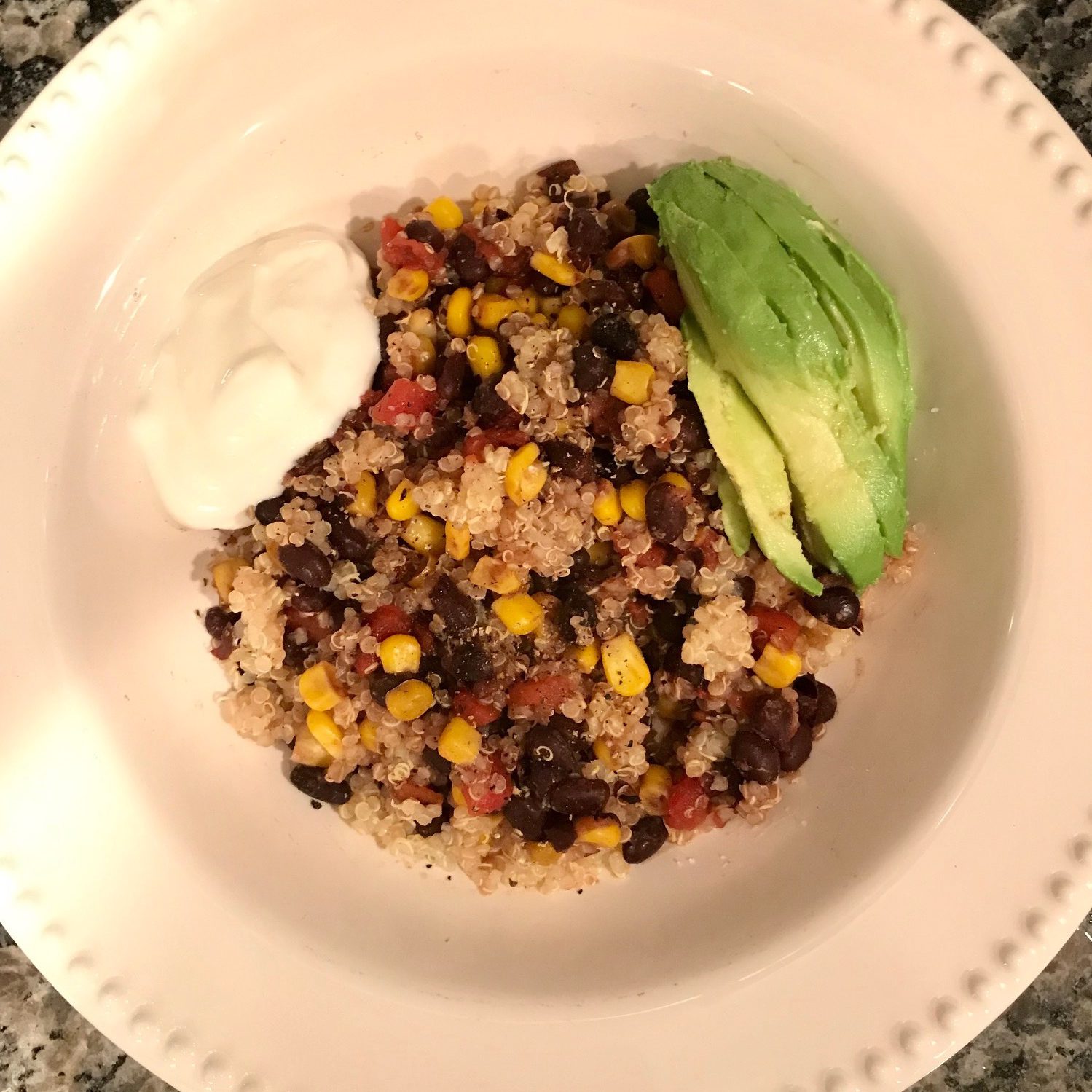 Instant Pot Mexican Quinoa
Ingredients:
1 tbsp olive oil
1/3rd can (28 oz) crushed tomatoes
1 can (15 oz) black beans, drained and rinsed
3/4th cup frozen sweet corn, rinsed in hot water
1 – 2 jalapeños, diced
1 large red bell pepper, diced
1 cup quinoa, washed
1 cup vegetable stock
1 tsp cumin powder
1 – 2 tsp cayenne pepper or red chili powder
2 tsp Mexican seasoning
Salt to taste
1 tbsp lemon juice
½ cup cilantro, chopped (optional)
1 medium avocado, diced (optional)
Directions:
Turn Instant Pot on and put on sauté mode.
Add olive oil and once it is hot, add the crushed tomatoes and stir for a few seconds.
Add all other ingredients (except lemon juice, cilantro, and avocado) and stir well.
Press cancel on the Instant Pot and close the lid. Make sure the pressure valve is turned towards sealing. Put it on pressure cook mode (high) for 1 minute. Let the pressure release naturally before opening the lid.
Add the lemon juice and fluff it with a fork.
Garnish with cilantro and avocado before serving.
Note: To make the quinoa softer, add ¼ cup extra broth or cook for 2 minutes.
Nutrition Information per Serving (including avocado):
Serving size: 6, Calories: 280, Fat: 8.5 grams, Protein: 11 grams, Carbohydrates: 42 grams.
* Calculated using MyFitnessPal recipe analyzer, www.myfitnesspal.com/recipe/calculator
Don't miss another great blog: Subscribe Now