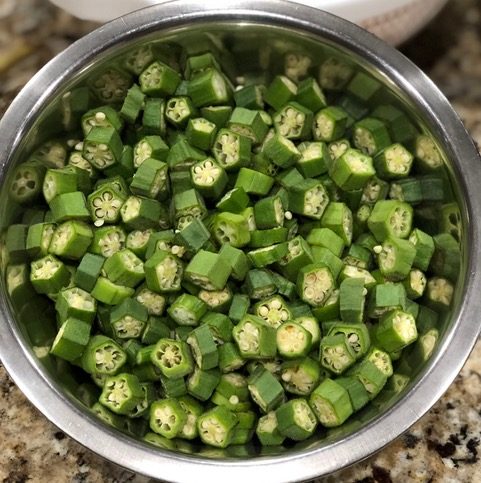 Okra, commonly referred to as Lady Finger in India, is generally a kids' favorite and was mine as well growing up. It still is one of my favorites and also for my kids now. When I came to the United States, I was surprised that okra was not as popular here. I am sharing the recipe below with the hope that more people will try making this low-calorie vegetable that is a very good source of some minerals, vitamins, and fiber. One hundred grams of okra only has approximately 30 calories and 3 grams of fiber.
The recipe below is super quick and very easy to make – my go to in a time crunch, especially if I have already cut the okra ahead of time. The spices bring out a flavor that is hard to resist. You can adjust (or omit) any of the spices listed in the recipe below to suit your taste. You can also add some chopped onions if desired.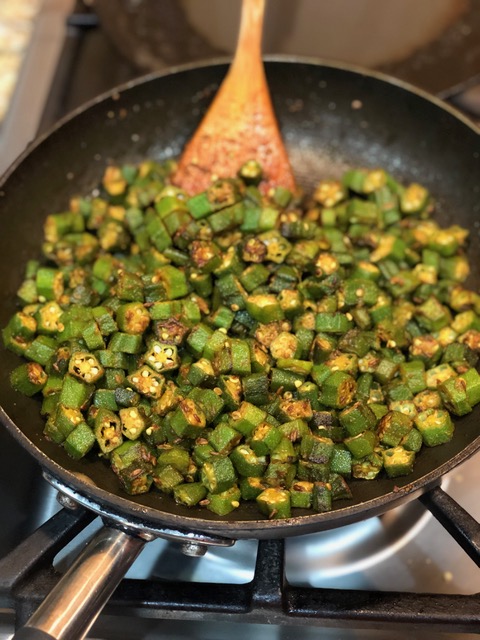 Spicy Okra Stir-fry
Ingredients:
1 lb fresh okra
1 tbsp olive oil
1 tsp cumin seeds
1 tsp turmeric powder
½ – 1 tsp red chili powder
1 ½ tsp coriander powder
½ tsp garam masala (optional)
Salt to taste
Directions:
To prep the okra cut off the ends and dice into small pieces (about ½ inch or slightly less – see picture).
Heat olive oil in a skillet. Okra cooks better on a non-stick surface but you can use others if needed.
When the oil is hot, lower the flame add all spices except salt and sauté for 30 seconds.
Add cut okra and mix well. Add salt and mix again. If making this dish with onions, add them and cook for a few minutes before adding okra.
Leave the skillet uncovered and cook on medium heat with occasional stirring every few minutes. Lower the heat if okra sticks to the bottom of the skillet.
Cook until desired tenderness. Serve warm with whole wheat pita or Indian roti/chapati.
Makes approximately 3 servings.
Nutrition Information per Serving*:
Calories – 90
Fat – 5 grams
Protein – 3 grams
Carbohydrates – 11 grams
Fiber – 5 grams
* Calculated using MyFitnessPal recipe analyzer, www.myfitnesspal.com/recipe/calculator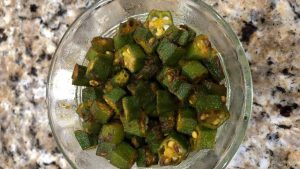 Don't miss another great blog: Subscribe Now