This May, we are celebrating #MedMonth by eating the Mediterranean way and sharing our favorite recipes. One easy way to start eating the Med way is to swap your meat for plant-based proteins. Beans such as chickpeas, black-eyed peas, red kidney beans, and black beans are not only a great source of plant-based proteins but also rich in fiber and other key nutrients. One cup of cooked chickpeas has 15 grams of protein. In addition to being nutritious, they are also delicious and can be cooked fairly easily depending on whether you use canned or dry beans.
Below is an easy recipe to make chickpea curry – it calls for some spices to add flavor but any of these can be omitted or adjusted in quantity to suit your individual taste.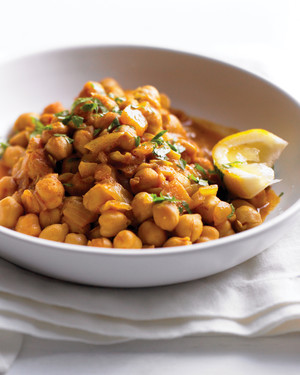 Quick Chickpea Curry
Serves 4
Ingredients:
2 cans chickpeas (approx. 15.5 oz. each), drained and washed
½ cup crushed tomatoes
2 tbsp olive oil
1 bay leaf
1 tsp cumin seeds
1 tsp turmeric
1 tsp curry powder
½ tsp cayenne pepper or red chili powder (optional)
½ tsp garam masala (optional)
1 tbsp grated ginger
1-2 tbsp lemon juice
Chopped cilantro to garnish (optional)
Salt to taste
Directions:
Heat olive oil in a large skillet. Once hot, lower the flame and add bay leaf, cumin seeds, turmeric, curry powder, cayenne pepper and garam masala. Sauté for 20 seconds.
Add crushed tomatoes and ginger. Sauté for 2-3 minutes with occasional stirring.
Add chickpeas, salt, and enough water to cover the chickpeas. The quantity of water can be adjusted based upon desired thickness of the dish.
Cover the skillet and simmer for 10-15 minutes.
Remove bay leaf, add lemon juice and garnish with cilantro.
Serve hot. It goes well with whole-wheat pita, brown rice, or as a soup if made into a thinner consistency. Using vegetable stock instead of water will add more flavor if making this dish as a soup.
Note:
The recipe above uses canned chickpeas but the same recipe can be made with dry chickpeas that have been soaked overnight (about 1:2 ratio for chickpea : water for soaking) and washed well before cooking. If using dry beans, cook them in a traditional pressure cooker or an Instant Pot to ensure that the beans get soft enough. In an Instant Pot, use the sauté mode for steps 1 – 3. Put the lid on and cook on bean/chili mode for 20 minutes for step 4.
Nutrition Information per Serving:
Calories – 245
Fat – 10 grams
Protein – 11 grams
Fiber – 13 grams
You might also like:
Top 10 Vegetarian Protein Sources
Mediterranean Diet Webinar Mini-Series
Are Nuts Healthy? 5 Reasons to Snack on Nuts
Don't miss another great blog: Subscribe Now