This is the time of year when time feels short.  There is a lot of fun to be had –holiday parties, secret gift exchanges (and not-secret gift exchanges), favorite movies or productions to watch, and all the things to decorate!  All this merriment often means I stay up later than I intended and struggle to get "up and at 'em" the following morning. To make sure I get myself started on the right foot, I make a week's worth of oatmeal in the crockpot and have a fast and filling breakfast waiting for me every morning.
I make these oats year-round, especially for busy weeks. They are delicious and keep me satisfied until lunch. And with so many topping options, it's easy to keep breakfast interesting.  Only 5 minutes of prep on Sunday for fuel all week long!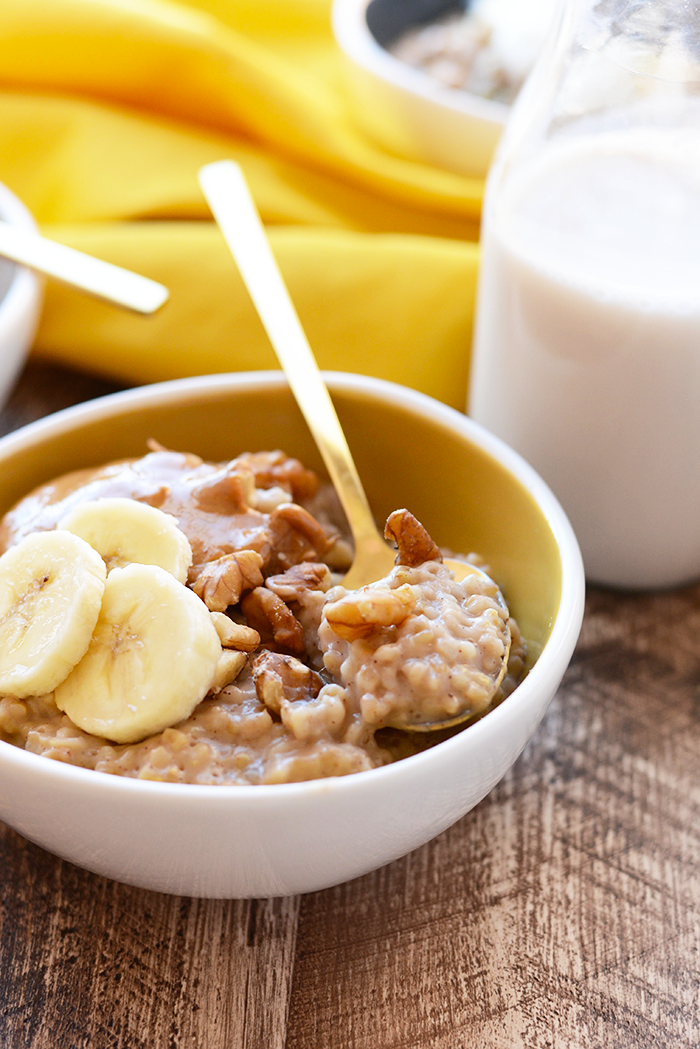 Slow Cooker Steel Cut Oatmeal
This recipe is based off a 2015 recipe from the Fit Foodie Finds blog.
Ingredients:
1 cup steel cut oats

½ cup quinoa, rinsed well
6 cups unsweetened almond milk
¼ cup maple syrup
Generous sprinkle of cinnamon
Dash of salt
Instructions:
     

Mix all ingredients in the crock in a slow cooker.

     

Cook on high for 4 hours.

     

Transfer cooked oatmeal into an airtight container and store in the refrigerator.

     

When ready to eat, heat oatmeal in the microwave. I top my oatmeal with plain greek yogurt, peanut butter, fruit, nuts, or any combination of these.
You might also like:
Making Sense of All the Different Types of Oatmeal
Quick Breakfast: Healthy Muffin Pan Quiche
Living Happily Ever After with Oatmeal
Don't miss another great blog: Subscribe Now