As part of my work, I help develop nutrition content for our programs, most recently the Eat Smart, Move More, Prevent Diabetes program.   Whenever I am developing sample menus for breakfast, I naturally include breakfast items that include the three components that are covered in the Start Smart lesson of this program:  whole grain, fruit, and protein.  And what food contains all three of these?  OATMEAL with fruit and nuts!  Over and over again, I have included OATMEAL with various types of berries and nuts as a healthy breakfast option, but have I actually ever eaten this for breakfast?  Embarrassingly, the answer is no.  Why, might you ask?  It takes too much time, it is too bland, don't like the texture, reminds me of Goldilocks' porridge and look what happened to her…the list went on and on.   In an attempt to 'walk the talk', I prepared oatmeal for my entire family, using this recipe: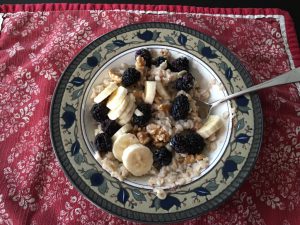 1 cup cooked Bob's Red Mill rolled oats
2 teaspoons brown sugar – added while cooking
Dash of salt– added while cooking
¼ cup walnut meats (unsalted)
½ cup blackberries
½ medium banana
Cinnamon sprinkled on top
What was the verdict?  WE LOVED IT!  How did this oatmeal differ from my previous experiences?  Let's go back to my original list of reasons for NOT eating oatmeal:
It takes too much time – While the oatmeal does take about 20-25 minutes to cook and prepare with the toppings, I am able to make a large batch on Sunday and keep the leftovers in the fridge to reheat small batches throughout the week. A little tip:  add ¼ cup of milk to each 1-cup batch of cold oatmeal before putting it in the microwave to add back some moisture.  Heat for 1 ½ minutes.  Stir before eating.
It is too bland – The brown sugar, dash of salt, sweetness of the berries and banana, and especially the cinnamon really give it a lot of flavor.
Don't like the texture – The thicker cut of the Bob's Rolled Oats makes it chunkier and less creamy than steel-cut oats, which I prefer.
Reminds me too much of Goldilocks' porridge and look what happened to her – That was just a fairytale, after all.
So a happy ending for oatmeal and me…I have discovered a healthy, satisfying breakfast option for only 465 calories and 12 grams of fiber!  I can officially 'walk the breakfast talk' about oatmeal!
You might also like:
Making Sense of All the Different Types of Oatmeal
The Fastest and Easiest Way to Cook Steel Cut Oats
Don't miss another great blog: Subscribe Now