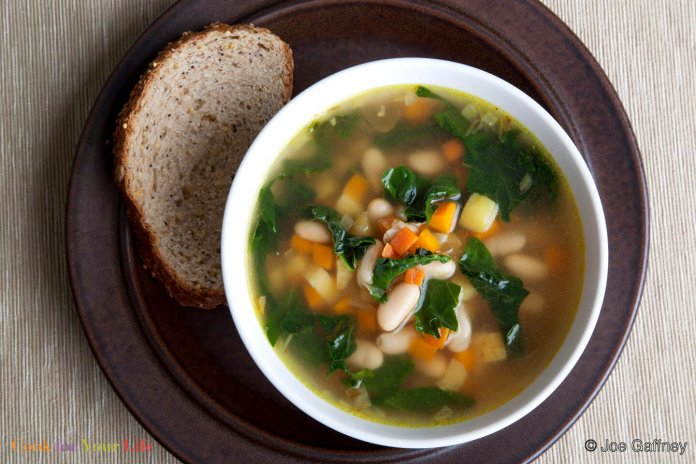 Collard greens are full of antioxidants while black-eyed peas are filled with fiber. This nutritious soup only takes 45 minutes to make and is perfect on those cold, wintery days. In order to make this a vegetarian dish, you can choose vegetable broth instead of chicken broth.
Servings: 6
Prepped and Ready to Eat: 45 minutes
Ingredients:
1 tablespoon extra-virgin olive oil
1 large onion diced
1 large carrot sliced
1 stalk celery sliced
5 cloves garlic (4 sliced and 1 whole)
4 cups reduced-sodium chicken broth
1 15-ounce can dice tomatoes
5 cups chopped collard greens (or kale leaves) tough stems removed
1 15-ounce can black-eyed peas, rinsed
6 ½ inch thick slices whole grain baguette
6 tablespoons shredded Gruyere or Swiss cheese
Directions:
Heat oil in a Dutch oven over medium heat. Add onion, carrot, and celery and cook, stirring, until just tender (5-7 minutes). Add sliced garlic, thyme and crushed red pepper and cook, stirring, until fragrant (about 15 seconds).
Increase heat to high and add broth, tomatoes, and their juice. Bring to a boil, scraping up any browned bits. Stir in collard greens (or kale), reduce heat to maintain a simmer and cook, stirring occasionally until the greens are tender (5-10 minutes).
Discard thyme sprig. Stir in black-eyed peas; remove from heat and cover.
Position rack in upper third of oven; preheat broiler.
Place baguette slices on a baking sheet and broil until lightly toasted (2-4 minutes). Rub each bread slice with the remaining garlic clove and discard garlic. Turn the slices over and top with cheese. Broil until the cheese is melted (1-3 minutes). Serve the soup topped with cheese toasts.
Source: EatingWell.com
Don't miss another great blog: Subscribe Now