My favorite vegetable is carrots by a long shot – raw, cooked, in soup, whatever. I am always looking for new ways to make sure I get my carrot fix. This is one of my favorite soups. You can eat it hot or cold. It has some interesting ingredients (lemongrass and Kafir lime leaves) that you can find at most Asian markets or you can leave them out. You can play around with different toppings such as toasted almonds or pumpkin seeds. You can also make this soup with butternut squash in place of the carrots or use half carrots and half butternut squash.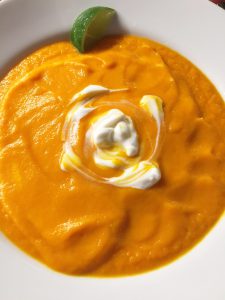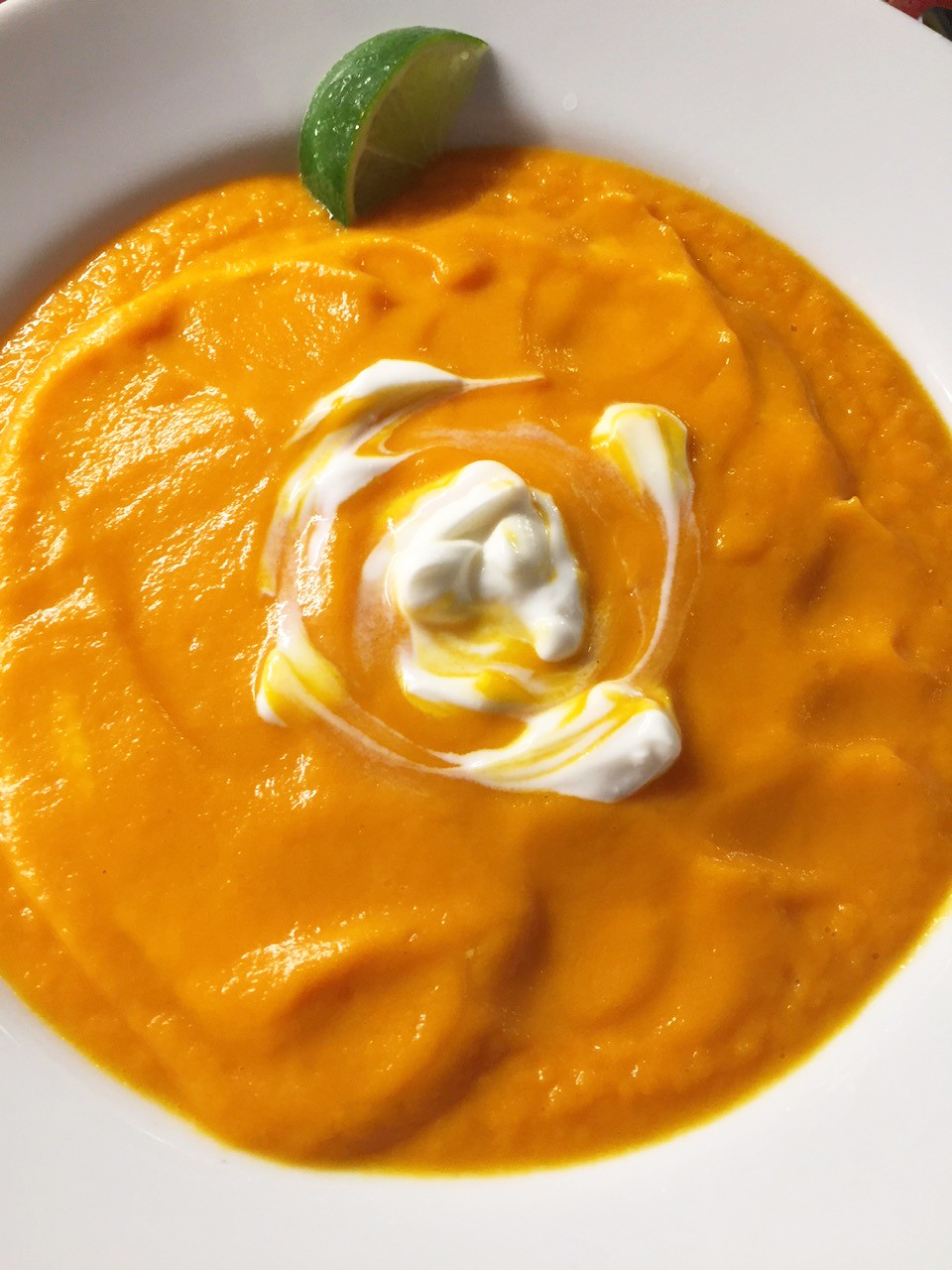 Carrot Ginger Soup
Serves 4
Serving Size: 1 ½ cup soup
Prep Time: 30 minutes
Cook Time: 30-45 minutes
Total Time: 1 hour
Ingredients:
1 Tablespoon olive oil
5 cups rough chopped carrots
1 large onion, chopped
½ teaspoon salt
2 stalks of fresh lemongrass use the bottom white part only, chopped or you can use 2 t lemongrass paste (optional)
4 cups low salt or unsalted chicken or vegetable stock
1 teaspoon Thai red curry paste (found in the International section of the grocery store)
1 Tablespoon grated ginger (more to taste)
2 Kafir lime leaves (optional)
Juice from 1 lime
Plain yogurt for topping
Instructions:
Heat oil in a large soup pot or Dutch oven. Add the carrots, onions, lemongrass (if using), and salt and cook until tender over medium heat (about 15 min.). Do not let the mixture brown, adjust heat as needed or add a bit of water.
Add the stock, curry paste, ginger, and lime leaves (if using). Cook for about 20-30 minutes until very tender.
Remove the lime leaves.
Puree with a handheld blender, in batches in a blender, or in batches in a food processor.
Add the lime juice and adjust the seasoning.
Top with yogurt and serve with lime wedges.
Serving size – 1 ½ cups
Vegetable – 1 cup
Fruit – 0
Calories – 100
Carbohydrates – 14 grams
Fiber – 3 grams
Protein – 4 grams
Fat – 3 grams
Sodium – 123 mg (sodium will vary based on the broth you use)
Don't miss another great blog: Subscribe Now