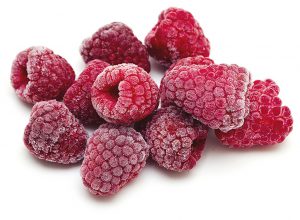 My husband is a vegetarian so we usually get a good portion of our vegetables at dinner. We have been trying out some recipes to swap our protein but I realized that we hadn't had fruit in a while. For Med Month I decided to make a conscious effort to eat more fruits and vegetables during the day. I decided to try to eat at least a fruit or vegetable with every meal and snack. It has been fun. The first week I kept the fruit pretty simple and ate a lot of apples and bananas. As the month went on, I was able to get in at least 2 servings of fruit a day while choosing a variety of colors and making sure to include berries more often than other fruit. My big success of the month was successfully cutting open a pomegranate.
Unexpectedly, this has caused me to do a better job at meal planning. I am going to the grocery store less often and I am sticking to the grocery list. I have everything on hand to pack my lunch for the day. As a result, I have brought my lunch to work almost every day this month. That was not part of the plan but it has been a good habit to restart. It is amazing how much time this has saved. I am also less hungry before dinner and have more energy to cook. My husband has been pleasantly surprised as I have pulled out recipes we haven't had in a while – Butternut Squash and Roasted Chickpea Salad (with pomegranates) and Zucchini Boats made with Soy or Quorn instead of meat.
So here is what I did:
Breakfast
Snacks
Fruit and nuts
Veggies and hummus, peanut butter, or guacamole
Chopped vegetables and a cheese stick
Lunch
Leftovers
Salads
Chopped Up Vegetables
Piece of Fruit
Dinner
Read the recipe ahead- if it didn't have at least 2 servings of vegetables than I found some way to add more to the recipe or had an extra vegetable as a side.
Swapped pasta or rice for a vegetable like cauliflower or zucchini.
While cooking dinner I often prepped vegetables or fruit for the next night or for lunch. Last night we had Cauliflower Nachos for dinner. I just made another small pan of it for lunch today. It was super tasty!
Don't miss another great blog: Subscribe Now