It is December and it is SOUP SEASON! There is just nothing better than a warm, cozy bowl of soup on a cold winter night or leftover the next day for lunch. I recently made this soup for my family and my husband commented with an unprompted rating, "I give this an A+". Let's just say that not all of my meals get this same type of shout-out, so I interpreted this to mean that this soup is a shining star! Hope that you enjoy as well!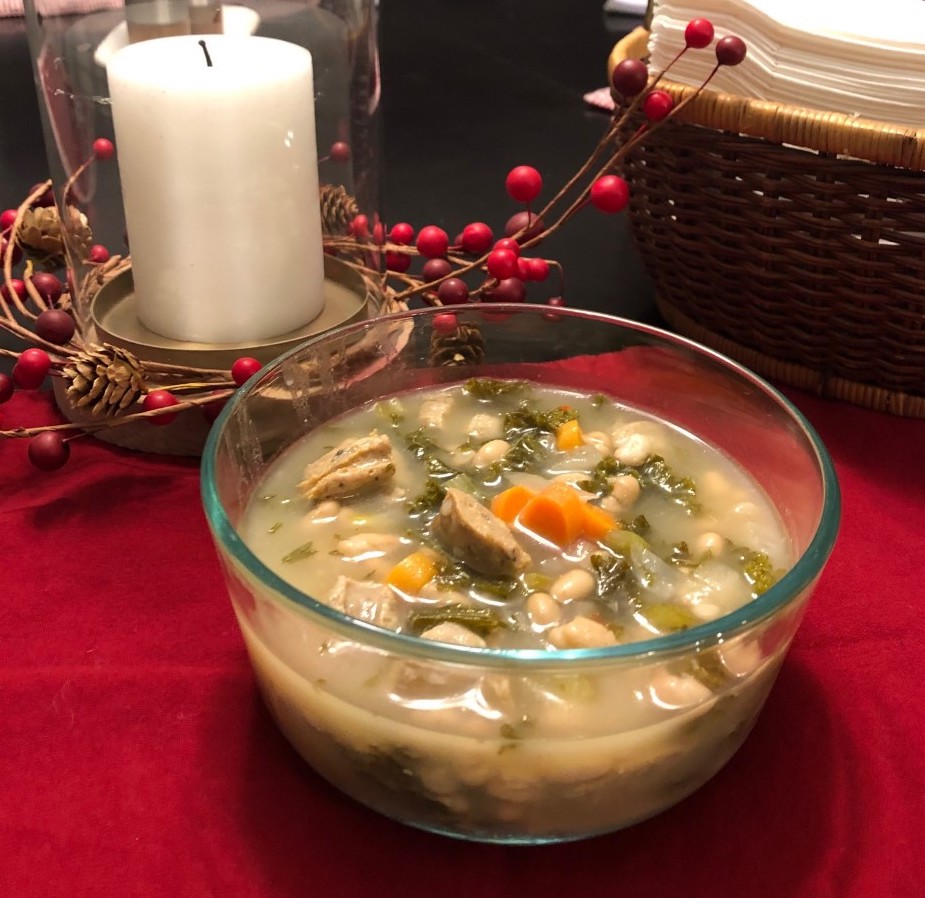 Creamy White Bean, Lemon, and Kale Soup
Recipe adapted from thefirstmess.com
Ingredients
2 tablespoons olive oil
1 medium yellow onion, diced
2 medium carrots, diced
2 celery ribs, diced
Chili flakes, to taste
1 tbsp. minced garlic (~3 cloves)
3 sprigs fresh rosemary, minced
4 (15-oz) cans cooked navy beans, drained and rinsed
2 (32-oz) cartons chicken broth
Juice from two lemons
Salt & pepper, to taste
4 cups chopped kale, washed and rib removed
1 (19.5) oz package of hot Italian turkey sausage (roughly 4-5 links) with casings removed
Instructions
Heat oil in large soup pot over medium heat. Add diced onions, carrots and celery and saute for about 2 minutes. Add sausage to vegetables and thoroughly cook.
Add garlic, chili flakes, and rosemary and stir about 30 seconds. Add chicken stock and stir again. Bring to a boil. Add the lemon juice.
Take 2 cups of beans and just enough chicken stock to cover the beans and add to blender. Pulse the blender until mixture is emulsified and pour into the pot. Add remaining navy while beans to pot. Season with salt and pepper.
Add kale and allow to boil again. Once the kale has cooked down and wilted, season again with salt and pepper. Drop temperature to a low simmer until ready to serve. Serve hot.
Enjoy!
Don't miss another great blog: Subscribe Now