Last summer, I challenged myself and my husband to add more fruits and vegetables to ALL our meals, not just dinner. This summer I challenged myself and my husband to try to not waste any of the vegetables or fruit we bought. This came after finding a particularly slimy cucumber in the back of our fridge.
Just like previous challenges we have done, this challenge caused us to do more meal planning, shop more carefully, and cook more at home. As a result, we have wasted less food.
I have gone back to some of my favorite cookbooks for inspiration. I am currently cooking out of Ottolenghi Simple and The Meatlover's Meatless Cookbook. Rather than going page by page, I search for recipes that have the fruit or vegetable I have on hand or have put on the shopping list. Some of my favorites have been eggplant stacks with homemade pesto and trout with cherry tomatoes and barberries.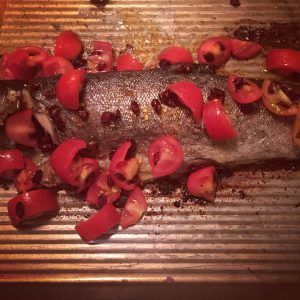 I have also have found ways to quickly prepare meals when there isn't much time or energy for cooking. There have been a few nights of chop up everything left in the fridge and put it in a pasta sauce, salad, or scrambled eggs. Those have been delicious meals as well. I have added Za'atar spices and preserved lemons to my pantry stock and eggs have never tasted so good! I got my kitchen knives sharpened and have been working on improving my knife skills. If anyone has tips on how to cut up a butternut or spaghetti squash, I am all ears!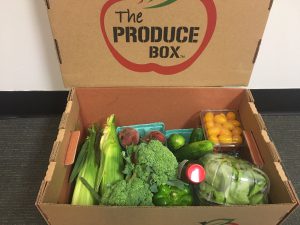 I also joined The Produce Box. This CSA-type group delivers a box of vegetables and fruits to my office each week. I am able to choose everything by Sunday night and it is delivered on Wednesday. I have time to plan ahead for what is coming or swap out a vegetable if I am making something specific.
Last night we had roasted cauliflower with cumin,cheese, and beans for dinner. It is still one of my favorite recipes from our first food challenge to eat more vegetables in 2016. Tonight's dinner will be something with the green beans. They were in our last week's box and I haven't cooked them yet. I don't want them to go to waste!
Don't miss another great blog: Subscribe Now