Who doesn't like pizza! However, many times, pizza gets a poor nutritional rating. It's mainly due to the fact that most pizzas are made from refined flour, are loaded with cheese, and lack in healthy vegetable toppings. This can be changed by making your own pizza – it's easy. When you make pizza at home, you are in control of what type of crust you choose and what you put on it.
Get kids involved in making pizza for a fun activity – my kids love to work with pizza toppings and are more likely to try new, healthy toppings when they add them themselves. It is one of those dinners where I don't have to do much at all and my kids can handle everything except the oven. Even if you don't have kids, decorating a pizza pie with your favorite toppings is a fun activity for all ages.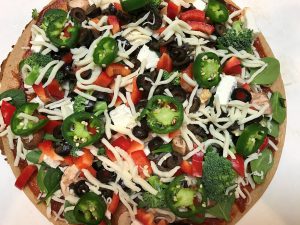 Start with a 100% whole wheat pizza crust – make sure you read the ingredients list. I buy store made crust (usually Mama Mary's Thin Crust) but you can try making your pizza crust from scratch as well. The thin crust option helps cut on calories. My staple toppings for pizza include:
Paneer (Indian cottage cheese) Being a vegetarian I add paneer for protein. You can substitute with a lean meat option according to your preference.
Broccoli
Red peppers
Mushrooms
Black olives
Spinach
Jalapeños
When your pizza is loaded with your favorite vegetable toppings, a sprinkle of cheese is enough. A variety of vegetables adds enough flavor to the pizza where you won't miss the cheese. Try making pizza at home instead of buying at a restaurant or fast food place and you will enjoy a much healthier version of this highly popular food for all ages.
You might also like:
Summertime Means Grilling Time – Don't Forget the Vegetables
Easiest and Fastest Way to Cook Steel Cut Oats
Don't miss another great blog: Subscribe Now