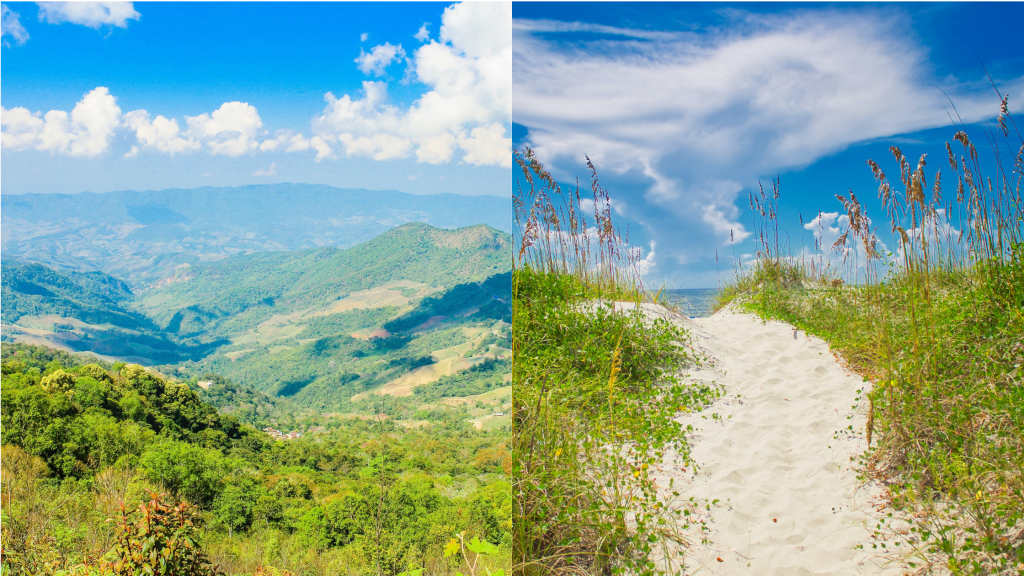 Not all of our readers live in North Carolina, but I thought it would be fun to highlight some of my favorite walking destinations in NC. Most of these I have personally visited while some are on my bucket list. Hopefully sharing my list of favorites will spark you to find your favorites in North Carolina or in your home state. When researching, I found someone who said "ask 10 people what their favorite trails are in NC, and you'll get 10 different answers." This is so true! I challenge you to find parks and trails that cater to your interests. The important thing is that we keep moving!
Western NC
Otter Falls, Seven Devils, NC: Want to see a beautiful NC waterfall without a strenuous mountain hike? Otter falls is just from the parking lot! In 2017, an observation deck was even built for easier viewing.
Wildcat Falls, Canton, NC: Near Ashville and looking for an easy hike to a beautiful 60-foot waterfall? Wildcat falls is the trail for you! This trail, right of the Blue Ridge Parkway, is a 1.5-mile trail where you'll encounter multiple cascades, a huge waterfall, and beautiful old bridges that were formally part of a road that passed through the area.
Boone Greenway, Boone, NC: Greenways are wonderful because of their accessibility and versatility. Greenways can be found in many cities around the state.
Central NC
Historic Occoneechee Speedway Trail, Hillsborough, NC: Easily my favorite "day-to-day" train in NC. Here you will walk the 1-mile oval loop that was previously the Orange County Speedway (active 1948-1968). Along your walk, you will see antique stock racecars, the ones that once raced on this track. The old flag stand, grandstand, and concession stands are also still in their original place and offer quite the scenic walk. Now, this racetrack is grown up with tall, shady pine trees just beside the Eno River, making this a cool, flat, and easy walk. Offshoots of this trail can connect you with the beautiful Eno State Park, Occoneechee mountain, and other walking trails in the area.
Neuse River Greenway, Raleigh (area), NC: Visit for a walk, jog, or bike ride and you will see beautiful overlooks of rivers, featuring artwork from local artists (including school-aged artwork), amazing bridges and tunnels, historical sites, and more.
Clemmons Educational State Forest, Clayton, NC: My favorite "hiking" spot. This Park makes you feel like you might be in western NC with its beautiful and diverse terrain. The highlight of this park, especially for my little one, is the "talking trees" and "talking rocks" trails. These two trails will take you through a walk with buttons. Hit the button and you will hear about the history of the forest and about the rocks and trees that make up the landscape.
Eastern NC
Cliffs of the Neuse State Park, Seven Springs, NC: Whether fishing, hiking, camping, swimming, or kayaking are your thing, you're going to love this park! Just outside of Goldsboro, NC, Cliffs of the Neuse is a park with loads of active living opportunities. The hiking trails are awesome and range from easy to difficult. The highlight of this park is the amazing cliffs overlooking the Neuse River. This view is well worth the drive if you are not local.
Fort Raleigh, Manteo, NC: Run by the National Parks Service, Fort Raleigh is home to the Lost Colony, this park is full of history and beautiful foliage. There are many trails in and around this park, many leading to small beaches that lend themselves perfectly to a picnic area where you can splash around or just relax.
Fort Macon, Atlantic Beach, NC: You will get your steps in just exploring this fortress! Adventure slightly outside of the fort and you will find beautiful trails and beaches that are perfect for a morning walk or jog.
Carolina Beach State Park, Carolina Beach, NC: Have you ever seen a Venus flytrap? This is the park you go to see these unique, carnivorous plants! Miles of hiking trails, boat accesses, and campsites make this a must-see when in the Wilmington area.
Many of the trails listed are easily assessable, some being handicap and wheelchair accessible. Be sure to research all trails and parks before visiting to get the scoop on amenities and accessibility. Remember that safety is always first and take family and/or friends when visiting a new place. Wear appropriate shoes and clothing and be careful on different types of terrain.
Don't miss another great blog: Subscribe Now