Congratulations, if you are purchasing a lunch box you are committed to taking your lunch. Good for you for preparing on Sundays, evenings or early mornings, grab and go, portioned healthy choices. Keeping your commitment to take healthy lunches includes picking the right lunch box. The next time you decide to treat yourself to a new lunch box (or maybe this is your first), consider the following tips.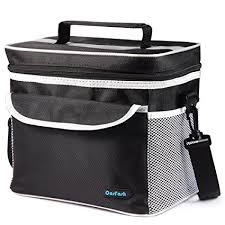 Choose a lunch box that has:
A hard plastic liner can be removed and washed
Height to allow you to carry taller items
Durable nylon construction that is stain and water resistant
A shoulder straps, this allows you to wear it over your shoulder your hands are full
Lots of space for containers; when you take lots of fruits and vegetables you need lots of room; a large size will also allow for space for freezer packs to keep everything cold
Keep up the good work, taking a healthy lunch instead of hitting the fast food drive through or vending machines is a great step towards good health.
Don't miss another great blog: Subscribe Now