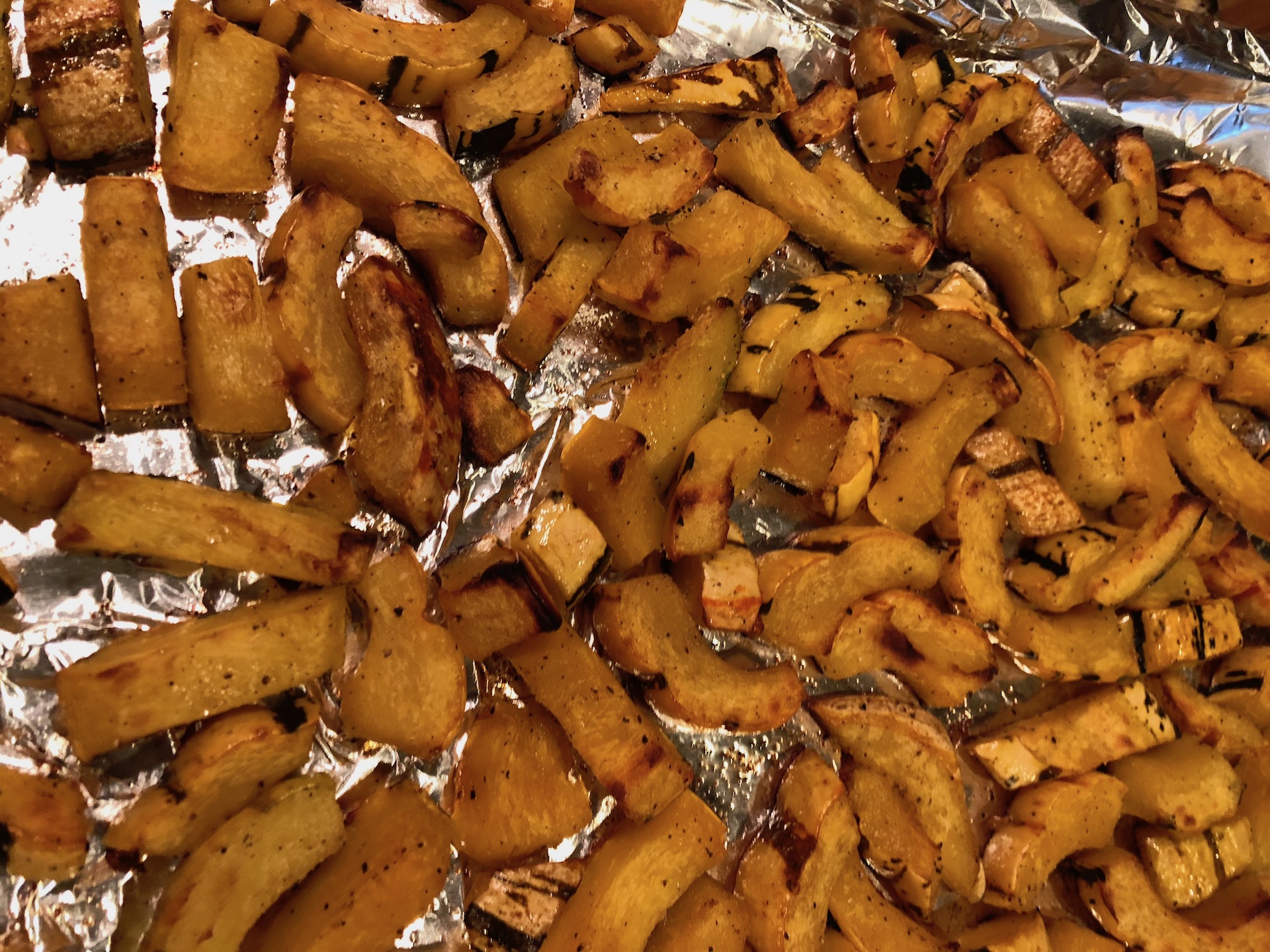 Move over butternut and acorn squash. Now for something…more delicate? Delicata squash is a winter squash also referred to as "sweet potato squash". It has a creamy texture, sweet flavor, and roasts beautifully in the oven. We recently tried delicata squash as a side dish with salmon and it was DELicious! As the name implies, the skin is soft and is therefore easy to chop and you can eat it with the skin on. It is even easier to buy it already chopped, washed, and packaged in the produce section of the supermarket, which is what I did. It was so simple, I just opened the package, spread it on a baking sheet lined with aluminum foil, tossed it in olive oil and salt/pepper, and put in the oven. My family loved it and my daughter commented, "this is so sweet." Hope that you also enjoy this little fall treasure!
Recipe for Roasted Delicata Squash
Ingredients
6 cups delicata squash, chopped
4 tbsp. olive oil
Salt & pepper to taste (I used 1 tsp salt for the entire recipe).
Directions
Preheat oven to 425º F. Line a baking sheet with foil or parchment paper for easy cleanup.
Cut squash into 2-inch pieces or buy pre-cut. Toss in olive oil on the baking sheet.
Sprinkle with salt & pepper and toss to coat well.
Bake until fork-tender and slightly brown on top ~35 minutes. Time may vary based on the oven.
Nutrition Information per Serving
Based on 1 cup of delicata squash with 1 teaspoon salt and 4 tablespoons olive oil
Serving Size: 1 cup (serves 6)
Calories: 120 calories
Carbohydrates: 10 grams
Fiber: 2 grams
Protein: 1 gram
Fat: 9 grams (1.5 saturated fat)
Sodium: 390 mg
Don't miss another great blog: Subscribe Now