This post is a tribute to our hard-working participants and the goals they accomplish. As 2012 comes to a close, we look back on everything Eat Smart, Move More, Weigh Less participants have achieved and look forward to future participants doing the same! We could ramble on and on about our participants (and the program), but we figure it's more effective to let them do the talking.
One participant writes "Since the class ended I have lost even more weight and am feeling great about my weight loss and my exercise program. (My Doctor even hugged me, she was so thrilled) I wish to thank you for all you do to motivate the people that attend your online class; it gave me the "push" I needed to really make a healthy change in my life. You are making a difference!"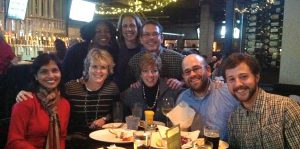 We recently received an email from a participant that stated; "I Lost 21.5 pounds! I learned about portion sizes, label reading, and have overcome food addictions. I feel confident I can track my exercise and food, and therefore I have become mindful of overeating."
A participant from one of our onsite classes writes "We have LOVED our sessions of Eat Smart, Move More, Weigh Less, and those of us who have participated have made progress toward our personal goals for making healthier choices. We are so thankful for Eat Less, Move More, Weigh Less for helping us create a supportive community for healthier living at our workplace!"
It's not always about the numbers, but sometimes they tell quite a story; "That makes 41 lbs in 6 months! I believe the last time I was this weight was 1995. With what I've learned in our class about healthy eating plus an enjoyable exercise routine I am confident I can sustain this."
Some participants run right past their initial goals and have to adjust them to something more ambitious; "I'll be looking good for my 30th HS class reunion and I'm entertaining the thought of trying to body build in at least one competition at 50 years old. You have given me the tools I need to continue losing weight and thinking positive!"
One more; "I just wanted to send you a quick HUGE THANK YOU for teaching such a wonderful class!!!!  You have without a doubt changed my life forever.  I have, for as long as I can remember, struggled with my weight. I have tried diet after diet and could never seem to stick to anything. Your class has taught me how to eat right and what I need to look for when I shop. I have lost 16 pounds from since starting in September.  I have never felt more energized in my life.  Again, thank you, thank you thank you!!! You will always be my motivation."
We want to give a big thank you to ALL of our participants – old and new! Wishing you all health and happiness as we bring in the New Year!