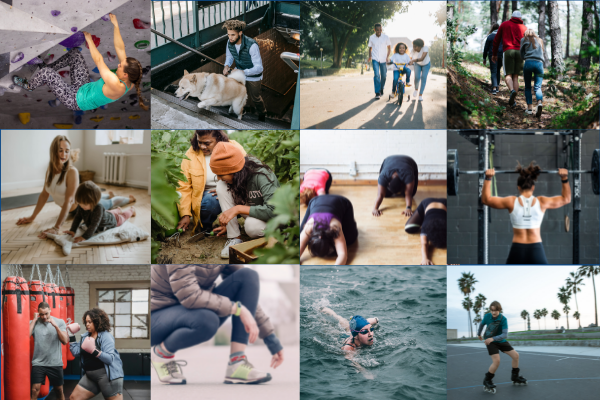 Whether you use the word "fitness" or "exercise" or "physical activity" to describe your daily movement, everyone could benefit from a change up to their current routine no matter how small. Some of us really enjoy running or going to the gym, while others find joy in other forms of movement. While there is absolutely nothing wrong with running or going to the gym (these are amazing ways to engage in physical activity!), there are countless other ways to get our bodies moving. If you are looking to try a new routine or new activity, look no further!
The Physical Activity Guidelines for Americans recommend adults engage in 150 minutes of moderate-intensity OR 75 minutes of vigorous-intensity aerobic activity each week. Aerobic activity can be moderate or vigorous intensity. Moderate-intensity activities, like brisk walking, make your heart beat a little faster than normal. Vigorous-intensity activities, like jogging or running, elevate your heart rate even further. We can meet this recommendation through a variety of activities. The goal is to find activities you enjoy – that is your fitness connection!
Are you looking to start a new routine?
Check out these sample programs from our colleagues at Eat Smart, Move More NC. Feel free to modify or adapt them as you see fit to meet your current fitness levels. Change up your walking or jogging route for some added variation.
Are you looking to try a new activity or change up your current routine?
Review the list below and pick one new activity to engage in. Many can be done easily from home and require little to no equipment. Others may require access to an outside facility or fitness studio, but are worth looking into if you are interested.
Swimming or Water Aerobics: Low-impact aerobic exercise that engages most muscles in the body.
HIIT: High-intensity interval training combines short, maximal effort work intervals with rest intervals. HIIT workouts are adaptable, quick and effective. Check out example HIIT Workouts, Low-Impact HIIT Workouts for Older Adults or Tabata Workout at Home for inspiration.
EMOM: A type of HIIT workout, every minute on the minute workouts are also very adaptable. Choose 1 or 2 exercises and a number of repetitions for each. Every minute on the minute you complete the exercises and repetitions and then rest for the remainder. Follow this format to create a short and effective workout.
Boxing/kickboxing: Cardio boxing workouts focus on air punches and do not require any equipment. If you have access to a gym or boxing studio, these classes can be a great way to get your blood pumping and relieve stress.
TRX: Total resistance exercise training utilizes suspension straps and your bodyweight for a great muscle strengthening workout.
Yoga: Mind-body exercises that involve strength, flexibility, balance and core training. Start your morning off with these simple yoga stretches for a relaxing start to your day.
Pilates: Low-impact muscular strength and endurance and flexibility training. A great bodyweight workout you can do from home.
Barre: Ballet-influenced exercises that involve strength, cardio and flexibility. You can opt to use light weights or bodyweight.
POUND: Did you know drumming can be a full body workout? POUND combines cardio, strength, pilates and yoga to get your heart rate up while drumming along to the music.
Powerlifting or Olympic lifting: These require specific equipment and techniques but certain gyms offer small group or personal training.
Rock climbing or bouldering: If you have access to an indoor climbing center, it may be worth checking out. All equipment is available on site and the courses are generally changed at some frequency for added variation and challenge. Bouldering is a form of free climbing that does not require a harness.
Hiking: If you live near a trail, lace up your shoes and get moving.
Think Outside the Box Activities
FootGolf: A sport that combines soccer and golf. The main goal is similar to the main goal of golf: to get the ball from the teeing ground into the hole in the least number of shots possible.
Pickleball: This sport is played on a badminton court and combines badminton, tennis and ping pong. It is a fun way to stay active and with a smaller court, it places lower stress on your knees and joints than tennis.
Geocaching: A treasure hunt of sorts, geocaching could be a fun way to change up your walking route. All you need is a phone or GPS.
Plogging: Picking up trash while jogging, or plogging, is an environmentally friendly way to get moving and keep your community clean.
If you need more guidance or inspiration, check out our suggestions for more free ways to exercise at home for additional online resources. Let's get moving!
Don't miss another great blog: Subscribe Now