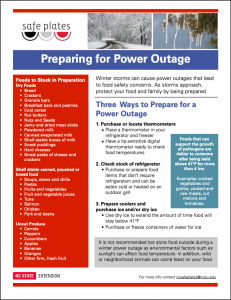 North Carolina has a Winter Storm Warning for the next two days with power outages likely due to ice.
Our colleagues on the Safe Plates team have several resources to help you prepare for power outages and keep your food safe.
Check out this video from Dr. Ben Chapman, NC State Extension food safety specialist, on how to keep your food safe during a power outage.
Discover more tips and tools on NC State Extension's Food Safety Portal.
Don't miss another great blog: Subscribe Now