At a recent Eat Smart, Move More, Prevent Diabetes Cooking School, we demonstrated a simple pasta dish made with vegetables and beans. It is shared below with a few modifications based upon what was available in my refrigerator the night I made this for dinner. I would have also liked to add carrots to this dish but I did not have any at the time. You can substitute the vegetables in this recipe with any others you prefer or have on hand. The main thing to remember is to add a lot of vegetables so each serving has much more vegetables as compared to pasta.
The dish is super simple and tastes delicious. You can save a lot of time if you have the vegetables chopped and ready to go ahead of time. Also, I happened to have 100% chickpea pasta which is what I used for this recipe but this can certainly be substituted by any 100% whole grain pasta.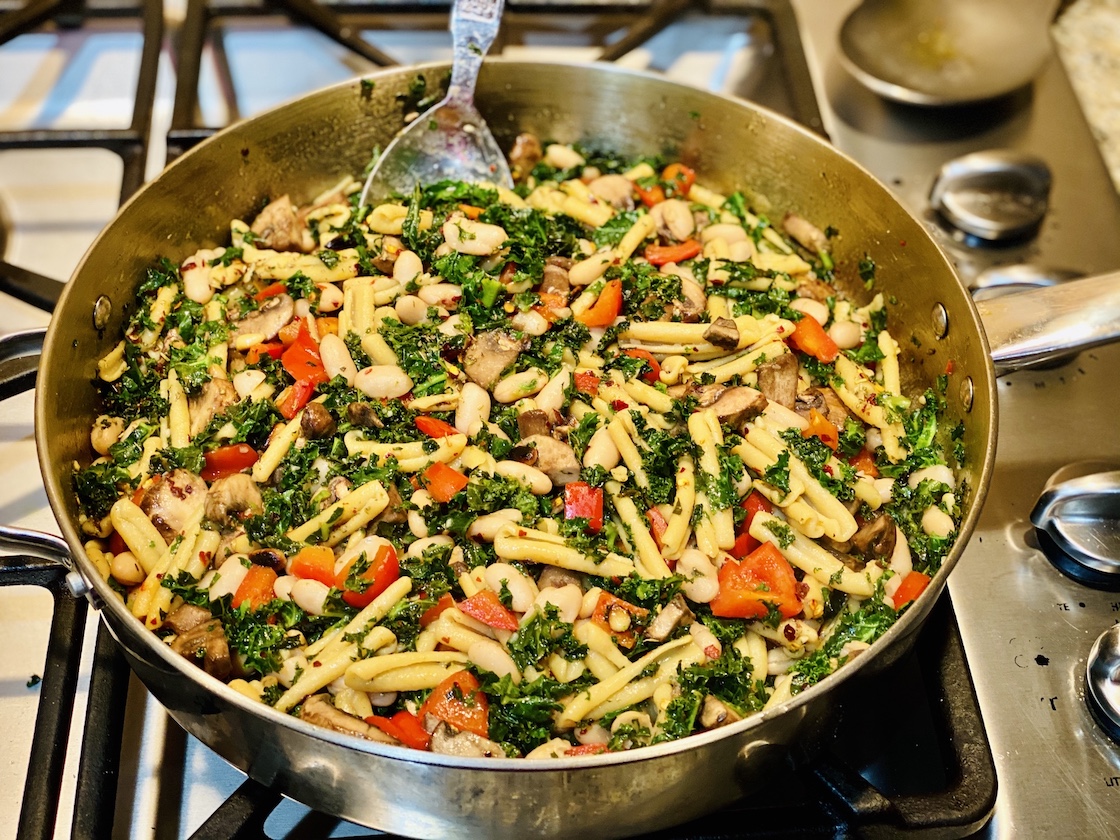 Healthy Kale and White Bean Pasta
Serves 5
Ingredients:
100% chickpea pasta, ½ of 10 oz. box
Olive oil, ¼ cup
Garlic, ½ tsp (minced)
Pine nuts, ¼ cup
Chopped kale, 1 lb bag (10 cups)
Baby mushrooms, 1 box (8 ounces)
Red pepper, 1 (diced)
White cannellini beans, 1 can (drained and rinsed)
Salt to taste
Crushed red pepper to taste
Directions:
Cook the pasta according to package instructions. Keep aside.
Heat the olive oil in a large skillet. Add garlic and pine nuts and sauté until light brown.
Add kale, mushrooms, red peppers and sauté for a few minutes until cooked to desired softness.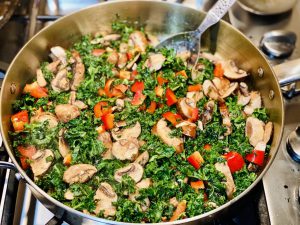 Add white beans and mix well.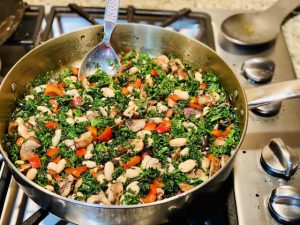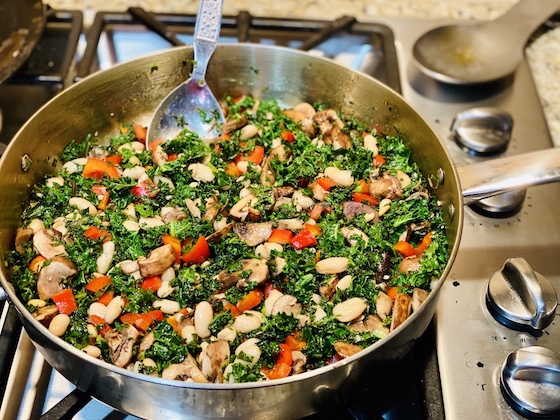 Add cooked pasta and salt. Mix well.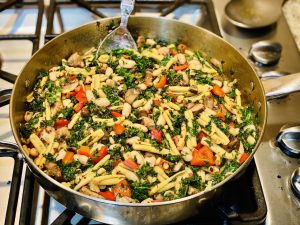 Serve with a sprinkle of shredded cheese and red crushed pepper as desired. Fresh parmesan cheese is an optimal option for best taste.
Nutrition Information per Serving (excludes sprinkle of shredded cheese)*:
Calories – 395
Fat – 16 grams
Protein – 18 grams
Carbohydrates – 45 grams
* Calculated using MyFitnessPal recipe analyzer, www.myfitnesspal.com/recipe/calculator
Don't miss another great blog: Subscribe Now