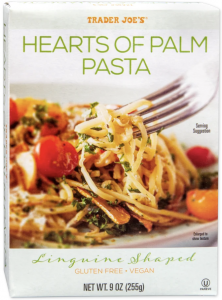 The latest non-traditional noodle has made its way to Trader Joe's—hearts of palm pasta. These tender and mild-tasting noodles are made from the center of palm trees. The Trader Joe's version comes in a shelf-stable pouch with 3 servings. Each serving comes in at a mere 20 calories, 0 grams of fat, 2 grams of fiber, 4 grams of carbs, 0 milligrams of sodium and less than 1 gram of protein.
These noodles are so easy to use and extremely versatile. You can simply open the pouch and heat them in a pan for a few minutes. No boiling water and draining required—a game-changer for quick weeknight meals!! The texture is very similar to regular wheat linguine-shaped noodles and the taste is similar to artichoke but subtler. Try them in Italian-style dishes with marinara, add them to chicken noodle soup, or take things in an Asian-inspired direction. For example, our Pad Thai-inspired Heart of Palm Noodle recipe!
Give these non-traditional noodles a try and let us know what you think!
Don't miss another great blog: Subscribe Now